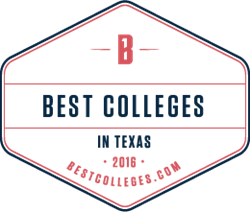 Houston, TX (PRWEB) June 15, 2016
BestColleges.com just published its 2016 ranking of the best online colleges in Texas. The methodology draws from data gathered by the National Center for Education Statistics (NCES), weighing factors like affordability, enrollment, graduation rates, and student outcomes. All of the online colleges included in the list are accredited, ensuring that the programs offered meet the highest standards of academic quality. The ranking serves as a resource for students in the Lone Star state and beyond as they search for an online college that best suits their budget, academic interests, and career goals.
The nation's second-largest state, both in size and population, Texas has become a leader in online education. BestColleges.com's ranking report notes that 1,573,627 students were enrolled in Texas' fully online programs in fall 2012, more than any other state outside of California. An increasing number of students now opt to pursue online learning, due mainly to its flexibility and affordability. Between 2006 and 2011 alone, enrollment in distance learning programs at Texas' public four-year institutions grew by 87%.
To support its thriving online learning community, Texas increased state funding for education by 4.4% in the 2014-2015 academic year, up to $15.7 billion. A portion of this funding is funneled into its rapidly growing online sector. Texas is a member of the Southern Regional Education Board (SREB), which works with policymakers and school administrators to ensure that the quality of available online programs constantly improves.
Topping off the best online colleges list is LeTourneau University, which boasts renowned aviation and aeronautical science programs online. Dallas Baptist University takes second place in the ranking, followed by Texas Tech University and the University of North Texas. Rounding out the top five is the University of Houston, which features an award-winning online MBA offering.
Top Ten Online Colleges in Texas
1. LeTourneau University - Longview
2. Dallas Baptist University - Dallas
3. Texas Tech University - Lubbock
4. University of North Texas - Denton
5. University of Houston - Houston
6. Sam Houston State University - Huntsville
7. University of Texas at Arlington - Arlington
8. Northwood University—Texas - Cedar Hill
9. Texas Wesleyan University - Fort Worth
10. Texas Woman's University - Denton