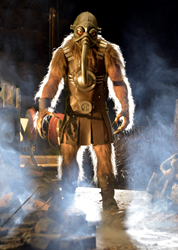 Man is an endangered species
Hollywood, CA (PRWEB) June 14, 2016
A 25 foot tall replica alien spaceship from the planet Psychlo will crash onto Hollywood Blvd June 14th at 5:45 PST. The malevolent alien security chief for Earth, Terl, will be captured by the story's heroes Jonnie Goodboy Tyler and Chrissie, led by a team of 10 Scotsmen, complete with drums and bagpipes.
Photo opportunities for visitors, along with Battlefield Earth posters and t-shirts will be available at the crash site.
The event celebrates the 21st Century edition of Battlefield Earth: A Saga of the Year 3000 by L. Ron Hubbard, releasing nationally in stores in time for Father's Day.
Battlefield Earth is a swashbuckling science fiction saga of adventure, daring and courage, when man is an endangered species and the future survival of what's left of the human race is at stake.
Originally published in 1982, the novel has gone on to sell over 4 million copies, has been on bestseller lists for over a year and was voted #3 of the top 100-best novels of the 20th century by the Modern Library Readers Poll.
The unabridged audiobook is 47 ½ hours long, utilizing 67 actors with over 150,000 sound effects and, with its immersive sound, is a true movie in the mind.
Read the entire first chapter of Battlefield Earth for FREE, here: http://bit.ly/PRWebPreEvent