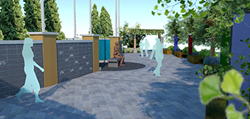 Mishawaka, IN (PRWEB) June 20, 2016
Center for Hospice Care (CHC) will mark the beginning of construction on its new Veterans Memorial with a groundbreaking ceremony on Wednesday, June 22, 2016 from 4:30 – 6:00 p.m. The memorial is located on the south lawn of CHC's Mishawaka Campus, along the northern banks of the St. Joseph River. The groundbreaking ceremony will take place at 4:45 p.m. and will be followed by a reception.
Those scheduled to particpate in the groundbreaking include Senator John Broden, Representative Dale DeVon, Senator Joe Donnelly representative Lauren Varga, Mishawaka Common Council President Ron Banicki and Mishawaka City Planner Ken Prince.
The memorial is an outgrowth of CHC's commitment to providing compassionate care to veterans facing serious, life-limiting illness. CHC is part of the "We Honor Veterans" campaign, a collaboration between the Department of Veterans Affairs and the National Hospice and Palliative Care Organization. As President/CEO, Mark Murray notes, "more than a quarter of the people dying in the United States today are veterans. Nationally, some 1,800 veterans die each day, and our goal is to address their end-of-life needs, to serve them as they have served us."
Center for Hospice Care will offer a number of opportunities to honor those who served in the United States Armed Forces at the Veterans Memorial. To learn more about memorial items and naming opportunities visit http://www.foundationforhospice.org/news/veterans
Established in 1978, Center for Hospice Care is an independent, community-based, not-for-profit organization, improving the quality of living through hospice, home health, grief counseling, and community education. With offices in South Bend, Plymouth, Elkhart and Mishawaka, Center for Hospice Care serves Elkhart, Fulton, Kosciusko, LaGrange, LaPorte, Marshall, St. Joseph and Starke counties in Northern Indiana. Both Center for Hospice and its supporting foundation, Hospice Foundation, are 501(c)(3) organizations.
For more information, please contact Cyndy Searfoss at searfossc(at)cfhcare(dot)org or by calling 574.277.4203.