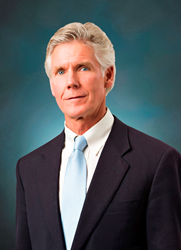 RENO, Nev. (PRWEB) June 16, 2016
The Nevada Board of Regents has re-elected Rick Trachok, an attorney with Lewis Roca Rothgerber Christie LLP, as chairman of the state's 13-member higher education governing body. He begins his second one-year term July 1.
Trachok is a partner in the Reno office of Lewis Roca Rothgerber Christie, focusing his practice in the areas of regulatory and gaming law, utility regulation and commercial law.
He was appointed by Gov. Brian Sandoval to serve on the Board of Regents in 2011 and retained in the 2012 and 2014 elections as the representative for District 10. He previously served two terms as vice chairman in 2013-2014 and 2014-2015.
Additionally, he has served as chair of the Workforce, Research and Economic Development Committee and a member of the Academic and Student Affairs Committee, Cultural Diversity Committee, as well as the ad hoc UNLV President Search Committee.
Trachok was a deputy district attorney with the Washoe County District Attorney's Office before going into private practice in 1981. He has served as a member of the Nevada Board of Bar Examiners since 1991 and as chairman since 2000.
He also served 15 years as an adjunct professor at the University of Nevada, Reno, teaching construction law in the graduate construction management program (1988-2003), and is currently an adjunct professor at the University of San Francisco School of Law teaching Law of International Trade.
The Nevada System of Higher Education is comprised of two doctoral-granting universities, a state college, four comprehensive community colleges and one environmental research institute, serves the educational and job training needs of Nevada. NSHE provides educational opportunities to nearly 106,300 students and is governed by the Nevada Board of Regents.
About Lewis Roca Rothgerber Christie LLP
Lewis Roca Rothgerber Christie LLP is an Am Law 200 commercial law firm for handling complex matters in litigation, intellectual property, business transactions, gaming, government relations and other practice areas. Lewis Roca Rothgerber Christie offices are located in Albuquerque, Colorado Springs, Denver, Las Vegas, Los Angeles, Orange County, Phoenix, Reno, Silicon Valley and Tucson.