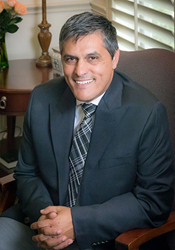 McKinney, TX (PRWEB) June 15, 2016
Dr. Marco Cueva now invites new patients without a referral from McKinney, TX, to receive All-on-4®dental implants at his practice in Allen. As a respected periodontist who has placed more than 10,000 implants throughout his career, Dr. Cueva is proud to offer convenient and comfortable All-on-4® implants to those with multiple missing teeth.
Dental implants are a highly desirable treatment option for individuals with missing teeth in McKinney, TX, and now patients with multiple missing teeth can receive full arch restoration with the help of the All-on-4® implant system. This system makes it possible for patients to receive a whole new set of teeth without the expense of placing individual implants in each and every empty tooth socket. Dr. Cueva performs the All-on-4® procedure by inserting just four dental implants in the patient's jaw. These implants are spread out and strategically placed in a manner that will ensure the greatest long-term stability and reliability. Once the implants have been placed in the jaw, a temporary fixed restoration can be attached the same day. When the implants are fully healed, the temporary restoration is exchanged for a permanent fixed restoration that is designed to look and feel as natural as possible.
In addition to providing patients with a reliable set of functioning teeth, the All-on-4® procedure is also more affordable than receiving individual implants for each missing tooth in a patient's arch. Those who receive this effective procedure also enjoy the immediate benefits of an improved appearance. Additionally, the four implants placed during the procedure help to discourage loss of bone in the jaw by stimulating bone growth.
Individuals with multiple missing teeth in McKinney, TX are encouraged to find out if they are good candidates for All-on-4® dental implants. Appointments for new patients can be arranged by calling Dr. Cueva's Allen, TX practice at 972-704-1101.
About the Doctor
Periodontic Excellence is a periodontal practice offering personalized dental care for patients in Allen, TX. Dr. Marco Cueva is a Board Certified Periodontist and has extensive education in periodontology and dental implantology. He attended the Federal University of Parana where he received his Doctor of Dental Surgery Degree, and completed three additional years of training at Camillo Castelo Branco University, before training at Baylor College of Dentistry. Dr. Cueva also earned his Masters of Science Degree in Oral Biology with a certification in Periodontics from Texas A&M University Health Science Center- Baylor College of Dentistry. Dr. Cueva offers a variety of services, specializing in dental implants, All-on-4® and the minimally invasive Chao Pinhole® Surgical Technique for treating receding gums. To learn more about the services offered at Periodontic Excellence, please visit the website at http://www.perioexcellence.com or call (972) 704-1101 to schedule an appointment.