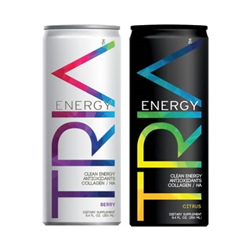 Our unique clean energy complex, antioxidant fruit extracts, and patented Liquid BioCell® make TRIA™ more than energy, an antioxidant, or beauty boost...it's all of these in one and there's nothing like it in the marketplace.
Anaheim, CA (PRWEB) June 15, 2016
On June 11, 2016 Jusuru International unveiled its groundbreaking energy supplement, TRIA™. The advanced energy science behind TRIA™ is designed to out-perform all energy drinks currently on the market with a triple-powered, clinically-studied formula. Its Clean Energy Complex delivers a healthy, clean energy boost, while also increasing mental clarity and improving mood and motivation. The 10 antioxidant phytonutrient fruit extracts in TRIA™ work to protect the body's cells from damage by neutralizing free radicals and helping to rejuvenate and repair cells. Liquid BioCell®, the clinically studied, unique and naturally-occurring matrix of hydrolyzed collagen type II, hyaluronic acid, and chondroitin sulfate that adds a third, unparalleled dimension to TRIA™, keeps joints healthy, skin glowing, hair thick and shiny, and nails strong.
Each 8.4 oz. can of TRIA™ provides a healthy boost for energy, mood, motivation, concentration, metabolism, muscle tone, skin, hair, nails, cellular health, and wellness.
Triple-Powered Formula:
Clean Energy Complex: Supplying long-lasting energy that fuels the body, focuses the mind and improves mood without jitters, TRIA's natural, Clean Energy Complex is comprised of a proprietary energy blend of guarana, green tea extract, Panax ginseng, and B-vitamins, and for mood enhancement and motivation, TeaCrine®.

Guarana - This plant seed supplies naturally-occurring caffeine that increases energy and reduces physical and mental fatigue.
Green tea extract: A natural stimulant, green tea extract promotes energy, mental alertness and concentration, while also providing powerful antioxidants.
Ginseng: This natural herbal stimulant enhances energy, concentration and endurance.
B-Vitamins: B-vitamins help turn energy into food and support healthy cell metabolism.
TeaCrine®: Based on preclinical and human clinical research, TeaCrine® facilitates a wide range of healthy functions: Boosts mental energy focus, supports energy supports a positive mood, increases motivation to exercise, and improves perceived focus and concentration, without jitters, irritability, or habituation.
Ten Antioxidant Phytonutrient Fruits
TRIA™ is a great-tasting, carbonated dietary supplement that contains a blend of jujube, nopal, blueberry, açai, chokeberry, gogi, maqui, pomegranate, mangosteen, and tart cherry extracts. The powerful antioxidants in these fruits help neutralize the free radicals that cause cell damage and begin the chain reaction toward cell repair and rejuvenation.
Collagen/HA Matrix
The Collagen/HA Matrix Technology™ that provides the third dimension to TRIA's ultra-healthy formula, Jusuru's award-winning, exclusive, and multi-patented Liquid BioCell®, is clinically shown to improve joint mobility, reduce wrinkles, and promote glowing skin and healthy hair and nails by delivering collagen and hyaluronic acid (HA) in a unique, fast-acting liquid delivery system.
Visible signs of aging of the skin and joint discomfort are a result of the progressive degeneration of connective tissue, where both collagen and HA are essential. Holding seven US and international patents and numerous industry awards, Liquid BioCell's® breakthrough technology harnesses a unique matrix of hydrolyzed collagen type II, HA, and chondroitin sulfate to help replenish those important substances in the joints, skin, and connective tissue. Furthermore, its patented Bio-Optimized™ manufacturing process ensures the production of an ideal molecular weight that the body can effectively and easily absorb deep into the tissues. Multiple clinical trials support Liquid BioCell's® positive impact on skin and joint health.
Jusuru president, Asma Ishaq states, "Since its inception, Jusuru International has been delivering quality nutraceutical and skincare formulations. I'm especially excited about expanding our product line to the energy sector as it opens up growth opportunities for our business, and offers unique, healthy, and functional benefits to the energy consumer. Our unique clean energy complex, antioxidant fruit extracts, and patented Liquid BioCell® make TRIA™ more than energy, an antioxidant, or beauty boost...it's all of these in one and there's nothing like it in the marketplace."
TRIA™ comes in two varieties. The berry-flavored, 8.4 oz. can contains 80mg of natural caffeine and 50 calories. The slightly stronger, citrus-flavored beverage also comes in an 8.4 oz. can. It contains 120mg of natural caffeine and 110 calories.
As a dietary supplement, TRIA™ does not intend to cure, treat, prevent or diagnose any disease. Health claims are not reviewed by the FDA.
More information about TRIA™ can be found at ShopTriaEnergy.com.
Industry Awards
Liquid BioCell® has won eight prestigious industry awards to date. SupplySide West's CPG Editor's Choice Award 2015 went to Liquid BioCell® for "Best Joint Health Supplement." NutraIngredients awarded them the "Reader's Ingredient of the Year" in 2015. Frost & Sullivan awarded them "Best Bone and Joint Health Ingredient" in 2011 and "Personal Care New Product Innovation" in 2012. Taste for Life Magazine honored them with its "2015 Anti-Aging Award," and Liquid BioCell® was the "2015 Editor's Pick" for Remedies Magazine. Liquid BioCell® was also a finalist for the Nutraceutical Business & Technology Award "Most Innovative Dietary Ingredient," and Liquid BioCell® Life was named the "Exemplary US Brand" at the Beauty from Within Conference in Paris, France.
About Jusuru International
Jusuru International, the premier collagen company in the world, was launched out of the science behind Liquid BioCell®, a new generation of collagen and hyaluronic acid nutraceuticals for joints, skin, and cellular health. Backed by multiple clinical trials, 7 US and international patents, and numerous industry awards, Liquid BioCell® has been making its mark in the multi-billion dollar anti-aging, sports nutrition, and nutricosmetics industries.