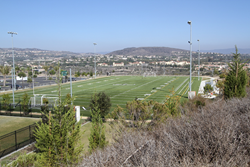 GeoFill is a healthy alternative to the recycled rubber infill which is used on most synthetic turf sports fields. The community is looking forward to using the natural material—coconut fiber and sand.
San Clemente, California (PRWEB) June 16, 2016
A classic coastal town with Spanish tile roofed homes and palm trees swaying on the bluffs, San Clemente, Calif., is a picture of preserved natural beauty. Prepping for the opening of Jim Johnson Memorial Sports Park this fall, the city will become the site of the first GeoFill synthetic turf field in Southern California.
The park is installing Shaw Sports Turf's Legion system. Legion is the company's bestselling product and offers a combination of slit film and monofilament fiber construction for a great balance of traction, foot stability, and aesthetics. The field looks and performs like natural grass, is visually appealing and allows for control of infill flyout. Legion also offers a 3-layer Ultraloc backing system for dimensional stability.
In addition to the Legion system, the park is utilizing GeoFill for the infill on the field. This is a high-performance field with the added benefits of an organic, alternative infill.
The installation will be for one soccer fields at the park, which is expected to open in the fall of 2016. The project is a part of The Sea Summit Development. Jim Johnson Memorial Sports Park is the fifth green space included in the development and will include a basketball court, restrooms, a concession stand, a picnic pavilion, a playground for ages 5-12, a warm-up area, and parking.
"GeoFill is a healthy alternative to the recycled rubber infill which is used on most synthetic turf sports fields. The community is looking forward to using the natural material—coconut fiber and sand," said Park Planner Aeryn Donnelly-Terry. "Synthetic fields are an advantage in the fact that they can be used immediately after rain events, unlike natural fields which need to dry before play continues."
GeoFill is the leading natural infill in the synthetic turf market. Made from completely natural materials, it is composed primarily of coconut husks and fibers. Coconut fibers are 100 percent organic and are a rapidly renewable resource. It is also inherently cooler than other synthetic turf playing surfaces, as the coconut fibers have excellent moisture retention qualities. As the sun warms the field, the water is released with an evaporative cooling effect. GeoFill surfaces have measured as much as 40 degrees cooler than traditional synthetic turf fields.
The city of San Clemente currently has three existing Shaw Sports Turf soccer fields and one lacrosse field at the Vista Hermosa Sports Park. Donnelly-Terry says the city hopes to convert these parks to the organic GeoFill material in the near future as well.
Sea Summit at Marblehead broke ground on the 300-home development in January 2015 and includes five city parks, four miles of trails, and 100 acres of preserved open space as a natural conservancy. Signs throughout the trails point out natural assets indigenous to the area, like endangered species and the wetlands that collect storm water.
"It is going to be a great facility to have this organic field next to two natural fields—the first organic in Orange County," said Shaw Sports Turf Territory Manager Leie Sualua. "From the new surface at Jim Johnson Memorial Sports Park, you can see the ocean. This is a beautiful property and a product that will benefit the city for years to come."
ABOUT SHAW SPORTS TURF
A wholly-owned subsidiary of Berkshire Hathaway Inc., Shaw Industries is a full flooring provider to the residential and commercial markets. Shaw supplies carpet, hardwood, laminate, resilient, and tile/ stone flooring products, as well as synthetic turf. Shaw Sports Turf is one of the leading synthetic turf companies in North America and has represented quality and innovation for more than two decades with over 1,500 successful installations, including an impressive list of high-profile field installations. For more information please visit http://www.shawsportsturf.com, call 866-703-4004 or find us on Facebook.