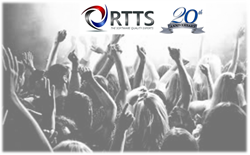 It's twenty years later and we're still at it - striving to make our customers successful
New York, NY (PRWEB) June 28, 2016
For the past 20 years, Bill Hayduk and Ron Axelrod have been the yin and yang of RTTS. Bill runs software & services and Ron runs sales. Bill's team builds software products and Ron's team sells them. Ron's team hires new employees, Bill's team trains them in the consulting ways and Ron's team finds assignments for them.
For RTTS, a software & services firm specializing in QA and Testing based in New York City, it's been like this for 20 years.
"The model has pretty much stayed the same on the services side," said Bill Hayduk, founder and CEO at RTTS. "We hire the top 5% of Computer Science candidates in our recruiting pipeline, we train them for over 300 hours using our proprietary training process and then we put them on one of our teams. It has been really successful."
So successful that RTTS has worked with over 600 clients in nearly every industry in the last 20 years, ranging in size from mid-tier firms to the largest multinationals in the world. But the heart of RTTS lies in its employees, many of whom have been with them for over 10 years, with some for more than 15 years.
"Our people are my favorite thing about RTTS," said Axelrod. "They are smart, pleasant, interesting, clever, innovative, hard working and a joy to be around. It is the highlight of my day getting to speak with them. And I really enjoy when I ask our clients how they feel about our employees. Without exception, they all rave about RTTS and our amazing people!"
Hayduk started RTTS in 1996 to focus on an opportunity in the market – new test automation tools that had made their way into software development process. Originally focused on providing automated regression and performance testing, these tools were too technical for business users to implement and programmers hated to test. Hayduk started out as a one-man-band - marketing, selling deals and implementing solutions, eventually joining the partnership program of fledgling software vendor SQA, Inc. (since acquired by Rational Software, now a part of IBM). In 1997, Axelrod, who specialized in software sales, joined and RTTS took off. RTTS later formed partnerships with industry leaders Mercury-Interactive (now part of HPE), Microsoft, Teradata, Oracle, Cloudera, HortonWorks and MongoDB. Current services include planning and implementing the automated testing of web applications, data warehouses, big data stores, business intelligence reports, mobile devices, ERPs, financial systems and other applications & architectures.
"Our partnerships with leading technology solution vendors and our ongoing relationships with our clients – even after we complete their projects – are two of the primary keys to RTTS' continuing success," stated Hayduk.
In 2011 RTTS made a risky bet when the team decided to create a product out of one of their utilities. RTTS officially launched QuerySurge, the data testing solution for Data Warehouses and Big Data, at Oracle OpenWorld in October of 2012. QuerySurge is now the market leader in the automated data testing space with over 50 clients globally, a strong and growing partner ecosystem and year-over-year growth of 247%.
"It's twenty years later and we're still at it – striving to make our customers successful," said Hayduk. "It has been a real adventure that is still continuing. We want to thank all of our clients, employees and partners - past and present - for providing us with the opportunity for success. We look forward to more outstanding years to come."
About RTTS:
RTTS is the premier pure-play QA & Testing organization that specializes in Test Automation. With headquarters in New York, RTTS has been serving Fortune 500 and mid-sized companies since 1996. RTTS draws on its expertise utilizing proven Application Lifecycle Management (ALM) best practices, expert test engineers and best-of breed software solutions to provide assurance of your application functionality, reliability, scalability and data quality. For more information, visit us here>>
QuerySurge is RTTS' software division. QuerySurge is the leading Data Testing solution built specifically to automate the testing of Data Warehouses & Big Data. QuerySurge makes it really easy for both novice and experienced team members to validate their organization's data quickly, analyzing and pinpointing up to 100% of all data differences while providing both real-time and historical views of your data's health. For more information, visit us here>>