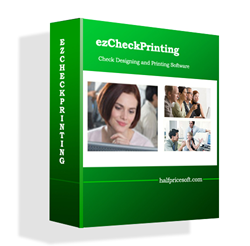 Halfpricesoft.com makes EzCheckPrinting even easier to format and design checks with new logo and signature guide.
Jacksonville, FL (PRWEB) June 22, 2016
ezCheckprinting version 6 software offers a new instructional guide for customers wanting to either add or delete a signature or logo in the setup of blank check stock. The Halfpricesoft.com team received many inquiries on how to do this task recently. The developer's quickly created and implemented the new guide with easy to follow instructions for customer accommodation.
"Halfpricesoft.com makes EzCheckPrinting even easier to format and design checks with new logo and signature guide," says Halfpricesoft.com founder, Dr. Ge
Download and try the demo for up to 30 days at no cost or obligation by visiting http://www.halfpricesoft.com/product_ezCheck.asp/
Reasons printing in-house checks work best for businesses:
Stand alone check writer increases security from hackers.
With ezCheckPrinting, customers can print checks when needed, rather than having pre-printed checks lying around. This minimizes theft opportunities.
ezCheckPrinting can easily alter or update check information without purchasing new checks from the bank.
Tax time is simplified with check printing software. Just a few clicks of the mouse generates a full report of all the checks you've written in the past year
Check writing software saves money by eliminating check stock fees and accounting fees.
Customers won't pay a monthly fee for using ezCheckprinting check writer. It's available at the low one time cost of $39.00.
Starting as low as $39 per installation for a single-user license key or $69 for the QuickBooks compatible version (ezCheckPrinting single user plus Virtual Printer), ezCheckPrinting makes professional looking checks and automated check writing accessible to any size business.
To learn more about this check writer software, visit http://www.halfpricesoft.com/product_ezcheck.asp
About halfpricesoft.com
Halfpricesoft.com is a leading provider of small business software, including payroll software, accounting software. ACA 1095 software, employee attendance tracking software, check printing software, W2 and W2 Correction software, 1099 software, and ezACH deposit software. Today Software from halfpricesoft.com is trusted by thousands of users and help small business owners simplify their payroll processing and business management.