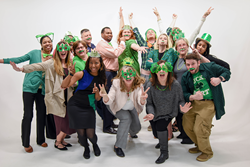 "From our CEO to our supervisors, our human resource department strives to create an environment where all employees can thrive!" -CATMEDIA HR Generalist, Matthew Mitchell
Atlanta, GA (PRWEB) June 19, 2016
For the first time, CATMEDIA is being recognized as one of the Best and Brightest Companies to Work For in Atlanta in honor of CATMEDIA's outstanding human resources department.
This year, CATMEDIA has the distinguished honor of being one of Atlanta's Best and Brightest Companies to Work For. On Tuesday, June 21, 2016, a select group of companies are being recognized for their achievements at the Atlanta Marriott Perimeter Center.
View the full list of Atlanta winners here.
In order to be nominated for the award, each company was evaluated based on Compensation, Benefits, and Employee Solutions; Employee Enrichment, Engagement and Retention; Employee Education and Development; Recruitment, Selection, and Orientation; Employee Achievement and Recognition; Communication and Shared Vision; Diversity and Inclusion; Work-Life Balance; Community Initiatives; Strategic Company Performance and the Best of the Best Small Business.
CATMEDIA's HR Generalist, Matthew Mitchell says, "CATMEDIA's human resource department is honored to be recognized by the Best and Brightest program. From our CEO to our supervisors, our human resource department strives to create an environment where all employees can thrive!"
CATMEDIA, an award winning Inc. 500 company, has seen tremendous growth since opening its doors in 1997. CEO, Catherine Downey has watched the company expand significantly in the past few years. Not only is the company being recognized as one of the Best and Brightest Companies to Work for in Atlanta, but CATMEDIA was also recognized as one of the 40 fastest-growing companies in Atlanta for the second year in a row.
The Best and Brightest annual awards and program will begin with a celebratory breakfast, registration, networking, and an exhibit gallery at 7:00 a.m., with educational programs following at 8:00 a.m.
The Winners' Award Reception along with photo opportunities will take place at 10:30 a.m. and will also include the Elite Awards Presentation featuring Dana Barrett, biz 1190 AM WAFS.
About CATMEDIA:
CATMEDIA is an award-winning Inc. 500 company based in Atlanta, Georgia. Founded in 1997, the company specializes in advertising, creative services, media production, program management, training, and human resource management. As a Women Owned Small Business (WOSB), CATMEDIA provides world-class customer service and innovative solutions to government and commercial clients. Current CATMEDIA clients include Centers for Disease Control and Prevention (CDC), Federal Aviation Administration (FAA), Office of Personnel Management (OPM), and the Department of Veterans Affairs (VA).
Stay Connected with CATMEDIA:
For more information, please visit CATMEDIA.com
Like us on Facebook
Follow us on Twitter
XXX