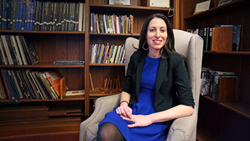 Austen is someone you can read to navigate periods of social change or social adjustment.
(PRWEB) June 24, 2016
Jane Austen's novels are as relevant today as they ever were, says Kate Singer, an assistant professor of English at Mount Holyoke College. Just look to the theaters to see Austen's enduring appeal: this month, "Love and Friendship," yet another popular movie based on an Austen book debuted in cinemas.
Singer has been reading Austen since she was a child. She has written extensively on the Romantic period in Britain, and particularly on women writers. She is working on book entitled Romantic Vacancy: Gender, Affect, and Radical Speculation.
Austen (1775–1817) was the author of six novels that contemplate the British gentry in the years after the French Revolution and is widely acclaimed for her part in the maturation of the English novel. Here Singer discusses why Austen endures and, in fact, is more relevant than ever.
Question: Why do we keep reading Austen over and over?
Answer: First, she makes writerly and readerly demands on us. We read her for her writing, her use of free indirect discourse, the way she thinks about plot and the architecture of her plots, the way she thinks about the deep subjectivity of her character, the way she uses language in a very precise and miniaturist way.
In addition, Austen is someone you can read to navigate periods of social change or social adjustment. She contemplates social change both at the level of the individual and at the level of society. She's focused on the shift from a landowning, aristocratic, very hierarchical, structured society into something more like a merchant professional class.
Pride and Prejudice, for example, is a narrative about class change. The protagonist, Elizabeth Bennett, makes a class leap and marries this very, very wealthy landowning member of the gentry, Mr. Darcy. Is Austen a conservative who is trying to reify a certain kind of hierarchical class structure that is still based on landowning? Or is she actually showing us how social structure can be altered through marriage? Elizabeth as the female character who is transgressing those boundaries makes it doubly interesting. What does this say about women's place in society and how women move around in different ways?
Another reason we read Austen is because she has a lot to say about human emotions and human affect, which is a particular area of my research. She thinks in intense and microscopic ways about how emotions work and how we deal with our emotions.
For instance, Sense and Sensibility presents us with two models about how young women deal with all the emotions of being an adult. Elinor Dashwood appears to be unemotional in certain ways but underneath there's a lot of turmoil that later erupts. And Marianne, her sister, represents the movement about feelings in the late eighteenth century called sensibility, which said it's good to own your feelings because it makes you an authentic, poetic character. So Marianne is emoting all over the place. Eventually she has to learn to ask whether extremely overwhelming feelings are authentic and whether so much expression can hurt others by asking them to co-process our emotions.
Q: How does an early nineteenth-century writer continue to teach us how to live, no matter how technologically sophisticated and advanced we seem to get?
A: I teach Sense and Sensibility in a first-year seminar on Austen and Mary Shelley called Feeling Like a First Year. The idea is, how do we handle our emotions and how can Austen help us think through what it means to have both the emotions you want and also the emotions that happen to you with such great force that either you can't control them or you're not really sure how to work through them.
Another way she teaches us how to live is that she thinks about how to deal with difference. How do you encounter someone who is not like you? How do you learn both to interact with them and to articulate difference in a way that is not begrudging?
Pride and Prejudice is a wonderful novel for this, which is one of the reasons why everyone loves it. You can easily say Darcy is a bit of a jerk, and Elizabeth too. They have their prides and their prejudices. But they're also really different from each other. Darcy is a snob but he's also shy and reticent. And Elizabeth is so quick-witted that she's quick to make certain kinds of judgments and assumptions. She's not skeptical enough about her own epistemology. They are both super-thoughtful and really smart, and this eventually makes them both very introspective about how to be sensitive to someone else. Austen helps us think about how to negotiate difference. That's something our students encounter, especially their first year here.
As for technology, Austen is very savvy about the ways certain kinds of technology structure society such as new modes of communication, travel, and timekeeping in the early nineteenth century. There are lots of famous horse-and-carriage scenes in her novels, for instance.
There's a great scene in Northanger Abbey where Catherine Morland goes for a ride with John Thorpe and he goes really fast. He's trying to show off his new car, basically. He's trying to thrill her into liking him. He's the fast talker with the flashy car. Austen has these garrulous speakers who signal less well-bred manners but often signal modernity as well. It's easy to read him as a comedic, slapdash character, but Austen's also thinking, what does it mean for young people not only in the most rarefied sector of society to have access to technology? Women can now be driven around, and go out on the town, and be flirted with. And what does it mean for men to have access to these technologies? They're trying to use modernity, to use the lure of modern sensations of the city, to say that we might all have access to such luxuries.
Q: How do you teach Austen?
A: I teach her at every level. Along with that first-year seminar, I've taught a seminar on error and self-discovery, so Emma is an obvious choice. I teach a Romanticism class and Pride and Prejudice is a good one for that. That class is about the French Revolution and the English reaction to it, the larger changes happening culturally, economically, and poetically.
I've taught Persuasion in my Romantic Epistemologies class. Persuasion is this amazing novel. I use it to think about cognitive models for thinking. I like teaching Persuasion to juniors and seniors because it's also about retrospection. There is a lot of looking back at relationships and also at the Napoleonic wars.
When I teach Austen, I follow the interests of the class, and my own interests about revolution, class change, affect, and modernity. And we always do lots of close reading at the sentence level.
Where would you advise someone who has never read Austen to start?
Clueless, which is based on Emma, is definitely my favorite Austen adaptation. A lot of students often dislike Emma Woodhouse when they first read the book because she is the epitome of privilege. Clueless sets the story in a context that's palpable for them. Seeing it reframed as a high school melodrama helps them realize that it's a comedy, that we're supposed to laugh at Emma a little.
Emma is also about how to deal with privilege, and a lot of our students are interested in that. What are good ways to address it and help other people, and what are ways that are maybe well-intentioned but problematic?
Pride and Prejudice is always a great place to start too, especially for our students. Elizabeth is a really interesting figure for an empowered person. She is the epitome of the modern woman who doesn't need to have all the accomplishments Darcy talks about: knowledge of multiple languages, musical proficiency in piano and voice. She doesn't have the resume but she's witty, she's really smart, and she's interested in intellectual play. Austen is saying just because you have accomplishments doesn't mean that you're thoughtful or sensitive or intellectual.
Elizabeth is a different model of a woman who's smart because she's a sharp and careful thinker. That's one of the reasons she's so alluring to students.