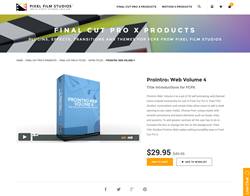 With 30 self-animating web-themed intros created exclusively for FCPX, ProIntro Web Volume 4 is a valuable plugin for any video project
Aliso Viejo, CA (PRWEB) June 19, 2016
"With 30 self-animating web-themed intros created exclusively for FCPX, ProIntro Web Volume 4 is a valuable plugin for any video project," said Christina Austin - CEO of Pixel Film Studios.
With 30 simplistic and self-animating presets ProIntro Web Volume 4 was made to be used across any and all media. Each preset design features basic title elements needed to create a sleek, simple, and professional opening scene. By simply changing the text and color of title elements, Final Cut Pro X users can apply ProIntro's style to any media.
ProIntro Web Volume 4 provides intuitive controls that allow users to adjust and manipulate the basic elements of each unique preset. Users can then determine the scale, opacity, and width of title elements with a click of the mouse. With the provided on-screen controls Web Volume 4 users can manipulate the overall position, rotation, and scale of presets with absolute ease.
ProIntro presets feature a unique intro and outro animation to provide a complete scene opener. Using the ProIntro Plugin is as easy as dragging and dropping. Simply browse through the ProIntro: Web Volume 4 library and drag the desired preset above any media file in the Final Cut Pro X timeline. Manipulate the duration of the title preset and modify the parameters provided in the inspector window. ProIntro Web Volume 4 will do the rest.
ProIntro Web Volume 4 background controls allow users to manipulate the media below ProIntro presets with a color wheel. Blur controls are also provided to allow editors to achieve a greater contrast between title elements and the scene below. Blur the background to create a frosted glass effect or color the background for a bold look. Combine both for a greater contrast between foreground and background.
Established in 2006, Aliso Viejo, California-based Pixel Film Studios is an innovative developer of visual effects tools for the post-production and broadcast community. Their products are integrated with popular non-linear editing and compositing products from Apple FCPX. Apple, the Apple logo, Mac OS X, and Macintosh are registered trademarks of Apple Inc. in the U.S. and/or other countries. All other trademarks and trade names are the property of their respective owners.