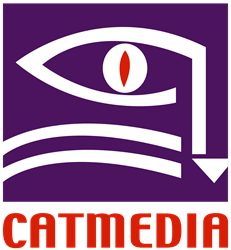 "I am so excited to receive these Stevie Awards," said Downey, "CATMEDIA has come a long way since 1997, and I am proud of our growth, hard work, and accomplishments."
Atlanta, GA (PRWEB) June 21, 2016
CATMEDIA is on a winning-streak this year as CATMEDIA came home with The Stevie Awards for Fastest Growing Company of the Year (Gold winner) and Executive of the Year (Bronze winner), preeminent business awards that recognize the best in American business.
This year, the American Business Award Committee hosted their 14th annual Stevie Awards in New York to present winners, such as CATMEDIA, with their titles and trophies. The American Business Award Committee is notorious for presenting some of the most prestigious and competitive awards for American businesses. The Stevie Awards reward top businesses for their accomplishments and contributions to America in multiple areas such as public relations, human resources, and product development. Receiving a Stevie Award is a wonderful, incomparable honor, and CATMEDIA is excited to accept the Stevie Awards for Fastest Growing Company of the Year and Executive of the Year.
The Stevie Awards are one of many awards that CATMEDIA has won in the previous year, as CATMEDIA has been turning many heads, both in the commercial and federal sector, due to it's growing list of successes. In 2015 alone, CATMEDIA has won several prestigious awards, increased revenue by over 2937%, and boosted employee growth by 107%.
What has compelled awarding committees to continually hang ribbon's around CATMEDIA's front door? CATMEDIA's CEO, Catherine Downey, imagined a different type of business - one that focused on creativity, quality of products and services, exceptional customer service, innovation, and integrity. These five core values of CATMEDIA have completely disrupted the traditional business approach of chasing success, which is evident from the ever-multiplying list of awards including Inc. 500's Fastest Growing Women-Led Company, Georgia Small Business Person of the Year, and Silver winner for Fastest-Growing Company for the Best in Biz Awards.
Now CATMEDIA has won over the American Business Award Committee with its innovative approach as the Stevie Awards for Fastest Growing Company of the Year and Executive of the Year joins this extensive list, making CATMEDIA renown for being a constant award-winning business.
"I am so excited to receive these Stevie Awards," said Downey. "CATMEDIA has come a long way since 1997, and I am proud of our growth, hard work, and accomplishments."
With so many awards in the previous year, CATMEDIA is a company to keep your eye on.
For more information about the Stevie Awards, please click here.
About CATMEDIA:
CATMEDIA is an award-winning Inc. 500 company based in Atlanta, Georgia. Founded in 1997, the company specializes in advertising, creative services, media production, program management, training, and human resource management. As a Women Owned Small Business (WOSB), CATMEDIA provides world-class customer service and innovative solutions to government and commercial clients. Current CATMEDIA clients include Centers for Disease Control and Prevention (CDC), Federal Aviation Administration (FAA), Office of Personnel Management (OPM), and the Department of Veterans Affairs (VA).
Stay Connected with CATMEDIA:
For more information on CATMEDIA and its services, please visit CATMEDIA.com
Like us on Facebook
Follow us on Twitter