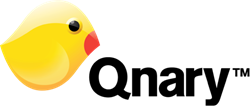 "It's exciting to see the Company open offices in Europe to support our clients," announced Bant Breen, Founder and CEO of Qnary
Barcelona, Spain (PRWEB) June 19, 2016
Qnary (pronounced Canary like the Canary Islands) is the premium provider of executive growth solutions. The Company started in 2012 with the goal of designing technology and providing services geared towards optimizing the digital activities of executives. Since inception the Qnary solution has helped thousands of busy executives establish and expand powerful online footprints. Qnary now works with executives and brands of the largest and fastest-growing companies in the world across a full-range of business verticals (banking, packaged goods, retail, energy, media, real estate, insurance, education, healthcare, recruiting and food and beverage). The plan to launch in Europe was a natural extension of growing client activity across the Continent as well as deep European roots.
"It's exciting to see the Company open offices in Europe to support our clients," announced Bant Breen, Founder and CEO of Qnary. "On a personal note, it is quite special for me to return to Europe and Spain for the announcement because this is where I originally wrote the business plan."
Qnary's European operations are led by Juan Oyarzabal Lodge and Jordi Collell.
"I discovered Qnary when in need of a reputation growth solution for a client and was impressed at the ease and power of the technology and expertise of the team, " exclaimed Oyarzabal, Qnary Europe Managing Director. Before joining Qnary, Oyarzabal Lodge was the Director of Interbrand Spain. Qnary Europe CEO Jordi Collell is a leading expert across Europe on personal branding. "We have been working on the importance of personal branding for several years in Europe, but Qnary offers us a path to bring this alive in the digital world. We are already seeing European clients signing up and growing their online thought-leadership with us."
About Qnary
Qnary delivers online reputation management solutions for professionals, brands and enterprises. Qnary's proprietary technology platform contains an arsenal of tools for professionals, brands and enterprises to monitor, control, optimize and create digital content including images and videos, social media, and search results. The Company has offices in North America (New York City) and Europe (Madrid & Barcelona).