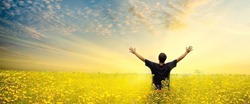 Books can feed the mind
Los Angeles, California (PRWEB) June 19, 2016
Los Angeles nonprofit organization Infinite Possibilities Community Foundation, Inc. is awarding scholarships to deserving, underprivileged, or inner-city youth who are beginning or already attending college in the Fall of 2016.
These scholarships will be available for those college students in community colleges or universities across the United States.
IPCF Inc. Founder and President John T. Casey MSW, MBA is a former foster youth who emancipated at age 18. He grew up in a broken home and witnessed domestic violence, death, drug use, fatherless homes, gang violence, and the lack of positive role models in the inner-city areas of Los Angeles.
Education was his saving grace, as he was provided an opportunity in the form or a scholarship. He was able to attend a community college and received his AA degree. He then transferred to a California State University, where he received his Bachelors degree, two Master's degrees (MBA, MSW), and is currently pursuing his Doctor of Business Administration (DBA) degree.
The reason why he started Infinite Possibilities Community Foundation, Inc., he wanted to provide the same opportunities to others that he received. The Foundation is seeking your help to raise funds for this worthy cause. IPCF Inc. is calling on other nonprofit organizations, philanthropists, entertainers, educators, social services professionals, and everyday people who believe in helping underprivileged youth to receive a higher education, giving them 'infinite possibilities'. If it was not for individuals or organizations like these, some underprivileged youth may never attend college or receive a higher education.
Your help, in the form of a donation, is tax-deductible. It will strengthen the individual, as the individual will strengthen their communities.
For those students who would like to apply for the scholarship the criteria is as follows:

Application
Letter of Interest (Essay) 2 or more pages
2- Letters of Recommendation
G.P.A: 2.5 or higher
Transcripts (H.S. or prior college semester)
1-Verifiable act of community service
Current proof of enrollment required
Infinite Possibilities Community Foundation, Inc. is a 501(c)(3) nonprofit, tax-exempt foundation founded in 2015 to provide services to former foster youths, veterans, and underprivileged community members in the Los Angeles, CA. area
For more information or to contact Infinite Possibilities Community Foundation, Inc. go to their website at http://www.infinitecommunityfoundation.org or call (562)357-8200.