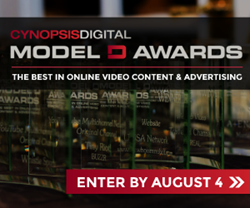 New York, NY (PRWEB) June 20, 2016
Cynopsis Media announced the call for entries for the Model D Awards, celebrating the best in online video content & advertising. Entries are being accepted through August 4, and the winners will be announced at an awards ceremony hosted in New York City on November 1, 2016.
"Every year, this program has gotten bigger in terms of both the number and quality of entries and attendees," said Cynopsis Publisher Roberta Caploe. "Last year, we honored brands such as Honda, Arm & Hammer, and Maxus Americas. And we were lucky enough to attract the participation of top online talent to help present awards, too. This year, we expect just as broad and lively a spectrum of celebs and execs."
Presented by Cynopsis Digital, one of the industry's most trusted brands for professionals in TV and online video content creation, distribution, media buying and planning, ad sales, technology, research and marketing. The Digital Awards are open to all individuals and teams worldwide including: digital media publishers, TV and online video networks, MSOs, studios, production companies, producers, brands, ad agencies, interactive media agencies, ad platforms, technology providers, developers and marketing and PR firms. Vendors are also eligible to compete on behalf of a client, and the program is also open to national and international entrants.
Winners and honorable mentions will be awarded in over 50 categories including content, companies and personnel, marketing, tech and tools, people and more. To enter online, visit http://www.cynopsisdigitalawards.com/
Finalists will be celebrated at an Awards Reception on November 1, 2016 in NYC and profiled in a special edition of Cynopsis Digital. For entry questions, contact Marketing Manager Sarah Martinez at sarah(at)cynopsis(dot)com. For advertising or sponsorship information, contact VP of Sales & Marketing Mike Farina at mike(at)cynopsis(dot)com.
About Cynopsis Media:
Cynopsis Media is what the TV industry reads first every day. The Cynopsis family of products includes the media industry's most-read daily, Cynopsis, plus sister dailies Cynopsis Digital and Cynopsis Sports, the Cynopsis Jobs board and special reports. Serving TV, agency and brand professionals, Cynopsis Media produces conferences, webinars, and awards programs that are second to none. Find out more at cynopsis.com.
##