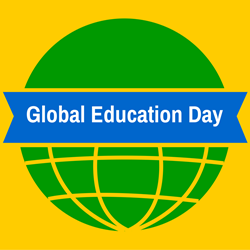 "We believe that every student should have an equitable, quality education, which is why we are honored to be a part of this important event". -David Young, VIF International Education
Northbrook, Illinois (PRWEB) June 22, 2016
The Global Education Conference Network, along with its leadership team and supporters, believes in the power of globally connected teaching and learning to change the world. The GEC Network annually presents face-to-face and virtual opportunities for education stakeholders for the purposes of fostering professional development, improving educational outcomes, and increasing global understanding and collaboration. ln addition to the virtual Global Education Conference which takes place every November, co-chairs Lucy Gray and Steve Hargadon are the creators of Global Collaboration Day, Global Leadership Week and the upcoming Global Education Day.
The fifth annual Global Education Day event takes place Sunday, June 26th, from 2 PM to 5 PM at the International Society for Technology in Education (ISTE) conference in Denver, Colorado. Globally minded educators, organizations and companies will share innovative ideas and best practices during this meeting. Global Education Day presents the perfect opportunity for educators and organizations to create authentic connections and partnerships enabling global action and increased empathy in classrooms throughout the world.
"Every year the profile and attendance of Global Education Day continues to grow and we couldn't be more thrilled," said VIF CEO David Young. "We believe that every student should have an equitable, quality education, which is why we are honored to be a part of this important event."
This participatory and interactive Global Education Day will feature inspirational ignite talks by noted leaders and organizations, round-table discussions on related topics, and a cool tools showdown in which the best resources for designing powerful global experiences for students will be shared.
Featured ignite speakers include:

Nicky Bourgeois, the Wonderment
Tia Lendo, Google for Education
Niccolina Clements Mangro, Edmodo
Michael Furdyk, TakingITGlobal
Jennifer Klein and Ross Wehner, World Leadership School
Jim Knight, TES
Chelsea Waite, Digital Promise Global
Cleary Vaughan-Lee, Global Oneness Project
David Young, VIF International Education
Additionally, the Global Education Conference Network is expected to announce the Great Global Project Challenge at this event. The Challenge will encourage educators to design global projects to be implemented in schools around the world during the 2016-2017 school year. These projects will kick off in September.
Global Education Day is made possible by innovative organizations committed to the mission of the Global Education Conference Network. Sponsors include industry leaders Edmodo, Google For Education, iEARN-USA, TES, VIF International Education, and the Wonderment.