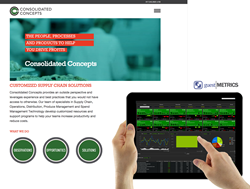 "This partnership is a key milestone for us, as it provides GuestMetrics with the potential to increase the number of hospitality locations we support and report sales on by approximately 30,000," said Marco Buchbinder, President and COO of GuestMetrics
Cambridge & Waltham, Ma. (PRWEB) June 22, 2016
GuestMetrics LLC, the leading data analytics firm for the Food & Beverage, Hospitality and Financial Services industries, has signed a multi-year, exclusive deal with restaurant supply chain partner Consolidated Concepts, the companies have announced.
As part of the 5-year partnership, GuestMetrics will integrate Consolidated Concepts' Food Cost Analysis – a dynamic supply-chain savings tool – within GuestMetrics' next generation On-Premise Operator Dashboard. In return, Consolidated Concepts will market the GuestMetrics Operator Dashboard to their extensive client base of more than 30,000 restaurant locations.
"This partnership is a key milestone for us, as it provides GuestMetrics with the potential to increase our current locations by approximately 30,000," said Marco Buchbinder, president and COO of GuestMetrics. "I look forward to working with the Consolidated Concepts team over the next five years and to deliver a crucially important savings function to the GuestMetrics restaurant, bar and hotel customer base."
Consolidated Concepts works with multi-unit restaurant brands and has $16 billion in buying power. In comparison, GuestMetrics tracks over 1.7 Billion point-of-sale (POS) transactions and more than $100B in consumer spending within the hospitality industry.
"This partnership enables Consolidated Concepts to market its benchmarks and analytics based on food trends and savings alerts to GuestMetrics' entire customer base, thus representing a significant growth opportunity for the company," said Bruce Reinstein, president of Consolidated Concepts. "This aligns with our belief in the restaurant value chain proposition, which is our approach to reducing supply chain costs through observations, opportunities and solutions."
The companies expect to launch the Operator Dashboard with Food Cost Analysis in September 2016.
"We are excited to launch our Operator Dashboard in August and to bring the best of what both of our companies offer to the restaurant and hospitality industry," said Brendan Reilly, CEO of GuestMetrics. "This partnership will expand our services and will drive a huge cost savings to our clients. Not to mention deliver a powerful data set to Consolidated Concepts' strong customer base."
About GuestMetrics
GuestMetrics, LLC (http://www.guestmetrics.com) is the leading data analytics firm in delivering consumer insights and actionable intelligence to the Food & Beverage, Hospitality and Financial Services Industries. GuestMetrics,along with it subsidiary Black Box Intelligence LLC (http://www.blackboxintelligence.com), tracks daily consumer spending in more than 40,000 on-premise locations (restaurants, bars, hotels and stadiums) across the nation, and transforms more than 1.7 billion Point-of-Sale (POS) transactions (representing over $100 Billion in consumer purchases annually), into actionable business intelligence.
About Consolidated Concepts
Consolidated Concepts (http://www.consolidatedconcepts.net) is the leading supply chain partner in the United States for more than 175 restaurant brands. The company's focus is on supporting multi-unit restaurants with savings by focusing on the opportunities that each brand may have in their supply chain. The Consolidated Concepts approach is to understand the brand and then observe, present opportunities and then focus on solutions together with the operator partner. Distributor and manufacturer neutral, Consolidated Concepts is a strategic partner of Compass Group/Foodbuy, Fresh Concepts, and Buyers Edge, which provides more than $16 billion in buying power.