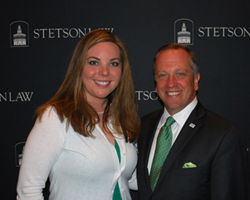 Gulfport, Fla. (PRWEB) June 21, 2016
Stetson University College of Law presented its annual awards to outstanding alumni and friends of the college during the Florida Bar meeting in Orlando on June 16. Stetson also celebrated the installation of Katherine Hurst Miller J.D. '06 as president of the Florida Bar Young Lawyers Division.
Alumni and friends honored this year by Stetson included:
Judge Mac McCoy B.A. '98, J.D. '01 was honored with the Distinguished Alumnus Award, recognizing individuals who are outstanding in their profession, who have brought honor to themselves and to the College of Law through service to humanity and dedication to the ideals of the College of Law;
Kayla Richmond J.D. '13 received the Outstanding Alumni Representative Award for her dedication and service to the Stetson Lawyers Alumni Association through local district involvement and for encouraging other alumni involvement in local district activities of the Stetson Lawyers Alumni Association;
Frank Hearne received the Distinguished Service Award, presented to recognize his significant, meritorious, and continuing contributions which have benefited the College of Law;
Larry Miccolis J.D. '09 received the Paul M. May Meritorious Service Award for showing his continued support of the Alumni Association and the College through contribution of time and gifts;
Judge Catherine McEwen J.D. '82 received the Ben C. Willard Award for expending great effort for the benefit of the citizens of Florida and for her humanitarian achievements bringing distinction to herself and to the College of Law;
Marc Levine J.D. '06 received the President's Award, presented to the current Stetson Lawyers Alumni Association president at the end of his/her term for service and leadership and for constantly striving to improve the on-going efforts of the SLAA for the betterment of all alumni.