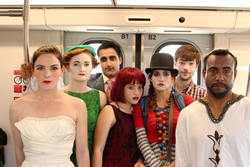 Los Angeles, CA (PRWEB) June 20, 2016
Pico Union Project and Citizen Change Theatre announce their co-production of Language of the Heart
written by Gina Rose Powell
directed by Gina Rose Powell and Brian Powell
Artistic Directors Brian Powell & Gina Rose Powell Musical Director Jef Bek Starring Ella Rose Charles, Nick Gillie, Prakriti Maduro, Rachel Murphy, Bryan Porter, Rahul Rai, Libby Wahlmeier
July 2, 8PM at The Pico Union Project
Multi-cultural cast tells stories of urban Los Angeles
Seven strangers meet on the subway. When the train crashes, these very different people come together, share the secrets of their hearts and realize that sometimes a train wreck is all your heart needs. Physical comedy combines with hard human reality to create a beautiful and surprisingly heightened comedy about how we can conquer our fears when we are finally seen and heard. In Gina Rose Powell's beautiful new play, we learn how a badly timed train wreck may just be what our world needs.
Enter the lives of a refugee from Libya searching for his lost wife, a teenage runanaway trying to make a fresh start, an abused bride who is running for freedom, an Indian Immigrant accused of being a terrorist, a single woman who feels invisible, a tornado victim who has lost everything, and a poet who hopes to heal the world with her words.
Citizen Change Theatre creates original theatre for the People. Their special focus is under-served communities. They find stories in prisons, juvenile delinquent centers, runaway shelters, women shelters, homeless, drug & addiction centers, and give these stories a voice.
To buy tickets visit: http://buytickets.at/picounionproject/58362
Learn More at http://www.citizenchangetheatre.com