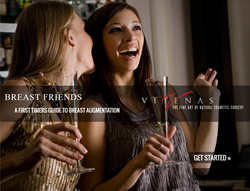 Houston, TX (PRWEB) June 22, 2016
Paul Vitenas, M.D., F.A.C.S. is delighted to announce the launch of his video eBook, Breast Friends, A First timers Guide to Breast Augmentation. This is a companion to the popular eBook released several years ago by Vitenas Cosmetic Surgery. Using a unique social media platform, patients get the same information found in the print book, in an innovative and easy to understand format.
Starting in June, Breast Friends will become a daily post on the Vitenas Cosmetic Surgery YouTube channel and Facebook feed. Every episode of the video eBook will cover one chapter of the book, as told by Dr. Vitenas. Broken down into manageable parts, each of the 31 segments runs from two to three minutes long.
In 2014, Dr. Vitenas first released the Breast Friends eBook. This publication was intended to guide women through the breast augmentation process. Now a definitive source on the surgical procedure, the book's chapters include breast asymmetry, finding the right size, cleavage, implant brands, Strattice and post-op bra shopping.
Dr. Vitenas recent focus on breast procedures revealed the need for a comprehensive guide to the augmentation process. "Several years ago, it occurred to me that there was an awful lot of information that I needed to convey to women who are considering having breast augmentation. I decdided to create a companion known as Breast Friends," he explains. "It tells one everything about the breast augmentation process and the experience which you will have when having a breast augmentation with us."
Founded in 1991 by Dr. Vitenas, Vitenas Cosmetic Surgery is dedicated to all areas of cosmetic surgery and noninvasive treatments. An avid writer, speaker, and educator, Dr. Vitenas is known for his extensive patient education efforts. In addition to the Breast Friends eBook, he has also published CoolSculpting: Get Rid of Unwanted Fat Without Surgery.
Breast Friends, A First Timers Guide to Breast Augmentation can be downloaded for free. Everyone is encouraged to watch the month long video eBook series at the Vitenas Cosmetic Surgery YouTube channel or on Facebook. To get more information on the practice or to schedule a complimentary consultation with Dr. Vitenas, contact the Houston office at 281.484.0088.