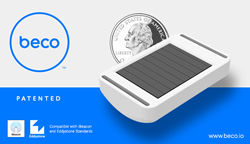 It has never been this simple to capture large-scale, real-world data about buildings
Boston, Massachusetts (PRWEB) June 21, 2016
Beco, a Boston-based location analytics company, has been granted a patent for the world's first battery-free, light-powered iBeacon. Unlike existing beacon technologies that require batteries or hardwiring, Beco's innovative beacons clip to existing lighting fixtures and gather unlimited energy through a solar cell. The beacons communicate with nearby mobile phones to stream data onto Beco's cloud-services, enabling high-resolution indoor positioning and building analytics. The system is simple to deploy at scale, providing high-resolution data on how people interact with and within physical spaces across a variety of real-world contexts.
"It has never been this simple to capture large-scale, real-world data about buildings," says Beco CEO Tom Zampini. "Spatial data is the missing link between the digital and physical world, enabling clients of any scale to realize efficiencies, optimize building use, or enhance user experiences."
The beacon is directly linked to Beco's cloud-services, which clients can use to stream real-time data or generate long-term insights. Beco is built on intellectual property that reflects this unique approach. This patent grant announcement by the United States Patent and Trademark Office acknowledges both the light-harvesting iBeacon and the integrated software. "Digitalization of lighting is imminent," says Zampini. "Beco is at the forefront of this transformation."
In addition to advancing hardware and software, Beco is developing applications of its system into new industry sectors, including enterprise solutions and customer-facing spatial experiences. By using already-existing lighting infrastructure, Beco can be seamlessly deployed across contexts, creating a new class of data that enables digital-physical interactions and fine-grained building analysis.
About Beco
Beco leverages existing lighting and mobile devices to provide real-time, hyper-localized digital services, and long-term data analytics on how people use and interact in physical spaces. The innovative battery-free beacons and cloud-based analytics platform enable enterprise systems with location intelligence to power on-demand retail, efficient and productive offices, and smart buildings. Additional information is available at: https://www.beco.io