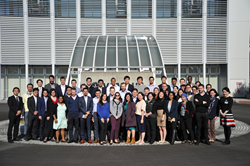 "The piano factory gave us a chance to see assembly line automation merged seamlessly with handmade craftsmanship," recalls Chris Wearn '17.
KAKEGAWA, Japan (PRWEB) June 21, 2016
Forty-one MBA students from the Yale School of Management visited the piano factory of the world's largest music product manufacturer, Yamaha, as part of an International Experience Course offered by the school. There, the students witnessed firsthand how the company, established in 1887, upholds and advances its "tradition of innovation."
The trip offered the Yale MBA students the opportunity to meet with leading multinational corporations based in Japan, including Yamaha Motor Company Limited, to learn about the key concepts and operational best practices that drive their success.
Assistant Professors of Marketing Aniko Oery and Kosuke Uetake, of the Yale School of Management, orchestrated the 10-day trip. "It was amazing, the students really enjoyed Yamaha," stated Oery. "They were very impressed with the piano factory. It was interesting to see the contrast in the production process of making a piano, which combined automation, along with the manual work of highly-skilled people."
Beyond the more traditionally manufactured acoustic instruments, the students also had the opportunity to learn about the leading-edge Yamaha TransAcoustic piano and the Clavinova digital piano, and how such instruments help the company to meet the needs of a diverse, global customer base.
Students also gained insight into how Yamaha supports sustainability while increasing productivity. By using robotics at the piano factory, the manufacturing process has been optimized to reduce energy use and waste production. Yamaha, however, leaves the most critical and artful components of the piano production process to the human hand and ear – for which there is no substitute.
"The piano factory gave us a chance to see assembly line automation merged seamlessly with handmade craftsmanship," recalls Chris Wearn '17. "Pianos valued at $25,000 moved from machine-automated steps to human hands several times. We learned that there are certain things machines will never do as well as humans, like the final tuning, which is always done by ear, or the construction of the highest-end pianos, which is done by a master's hand from the ground up."
Added Oery, "There were musicians in the group, and some of them played in the factory, to compare the different pianos. Because everything is handmade, the instruments were all different."
Beyond robotics and automation, the MBA students learned how Yamaha promotes sustainability by conserving wood resources through the development of alternative materials for rare wood that is used in musical instruments. For example, Ebony-style natural wood sharps made with a proprietary wood plastic composite (WPC) reproduce sound on par with optimum ebony sharps. The company has also reduced wood waste by revising its cutting, measuring and processing practices, and by using previously unused byproducts, which are generated when creating other parts.
The MBA students' itinerary included visits to other successful Japanese companies across diverse sectors; participation in traditional Japanese cultural experiences, such as tea ceremonies and kabuki theatre, and excursions in Osaka, Nagoya and Tokyo.
For more information, please visit http://4wrd.it/YAMAHAISG
-END-
About Yamaha
Yamaha Corporation of America (YCA) is one of the largest subsidiaries of Yamaha Corporation, Japan and offers a full line of award-winning musical instruments, sound reinforcement, commercial installation and home entertainment products to the U.S. market. Products include: Yamaha acoustic, digital and hybrid pianos, portable keyboards, guitars, acoustic and electronic drums, band and orchestral instruments, marching percussion products, synthesizers, professional digital and analog audio equipment, Steinberg recording products and NEXO commercial audio products, as well as AV receivers, amplifiers, MusicCast wireless multiroom audio systems, Blu-ray/CD players, earphones, headphones, home-theater-in-a-box systems, sound bars and its exclusive line of Digital Sound Projectors. YCA markets innovative, finely crafted technology and entertainment products and musical instruments targeted to the hobbyist, education, worship, music, professional audio installation and consumer markets.