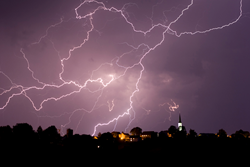 LINCOLN, R.I. (PRWEB) June 21, 2016
With the summer upon us, thunderstorms become a more frequent occurrence. That's why Amica Insurance is helping to debunk five lightning myths to promote safety.
Amica is sharing the following information from the National Weather Service:
Myth: If it's not raining or there aren't clouds above, there is no imminent threat of lightning.

Fact: Lightning often strikes more than three miles from the center of the thunderstorm, well away from the rain or thunderstorm cloud.
Myth: If caught outside during a thunderstorm, crouching reduces the risk of being struck.

Fact: Crouching doesn't make it any safer outdoors. Take shelter in a substantial building or hard-topped vehicle.
Myth: Rubber tires on a car protect from lightning by insulating you from the ground.

Fact: Most cars are safe from lightning. However, it is the metal roof and metal sides that protect you, not the tires.
Myth: Being indoors will keep you completely safe from lightning.

Fact: When inside, be sure to avoid anything that conducts electricity, such as corded phones, electrical appliances, wires, TV cables, computers, plumbing and metal doors.
About Amica Insurance
Amica Mutual Insurance Co., the nation's oldest mutual insurer of automobiles, was founded in 1907. The company, based in Lincoln, Rhode Island, is a national writer of auto, home, marine and umbrella insurance. Life coverage is available through Amica Life Insurance Company, a wholly owned subsidiary. Amica employs more than 3,400 people in 44 offices across the country. For more information, visit Amica.com.
Media inquiries can be sent to MediaCenter(at)amica(dot)com.
Twitter: Amica
Facebook: Amica Mutual Insurance Co.