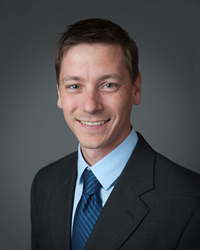 Louisville, KY (PRWEB) June 21, 2016
Evidence In Motion (EIM) is proud to announce that Brett Beuning, PT, DPT, OCS, FAAOMPT, has been named Director of the Orthopaedic Physical Therapy Residency Program, effective immediately.
Before he was named Director of the Orthopaedic Residency, Dr. Beuning served as a faculty member in both the post-doctoral residency and fellowship programs for Evidence In Motion and taught in Evidence In Motion's Resident Virtual Rounds program. He also acts as a Residency Mentor Leader for residents and regularly mentors fellows, residents, and interns in clinic.
Dr. Beuning's visions for the program include continuing to elevate the practice of residency graduates and their influence on the profession.
"I am excited to be named Director of the Orthopaedic Residency program," said Dr. Beuning. "I have a long relationship with Evidence In Motion and their leadership team, who have developed exceptional programming, and I am incredibly thankful for the guidance I have received from them over the years. I look forward to having an opportunity to further grow and shape the Residency program and to guide our students toward clinical excellence."
EIM's Orthopaedic Physical Therapy Residency Program provides post-professional clinical and didactic education in two unique residency settings – "Hosted" (12-14 months) and "Independent" (18-36 months) – to match students' residency training needs with their current life and work circumstances. Using a combination of distance learning on-line courses, weekend intensive hands-on courses, and clinical practice hours, courses are taught by EIM's world-class faculty, many of whom are internationally recognized for their contributions to education, research, and practice management. To learn more about EIM's Orthopaedic Physical Therapy Residency, please visit the EIM website.
About Evidence In Motion (EIM):
Evidence In Motion (EIM) is an education and consultation company that exists to elevate the role of physical and occupational therapists in health care delivery by providing premiere entry-level and post-professional education programs for rehabilitation professionals. They emphasize flexible educational offerings that feature the perfect blend of online and hands-on training from world-renowned educators with extensive experience in teaching, research, and business. EIM offers Continuing Education, Residency (Orthopaedic, Sports, and Neurologic), Orthopaedic Manual Physical Therapy Fellowship, Postprofessional Doctorate in Physical and Occupational Therapy and Certificate training programs (Manual PT, Sports PT, Pain Specialist, Geriatric, Industrial Health, Pelvic Health, Balance and Falls, Concussion Management, Hand, Cardiac, Stroke and Pediatric and Executive Program in Private Practice Management). For more information, please visit EvidenceInMotion.com. You can also find EIM on Facebook, Instagram, LinkedIn, and Twitter, @EIMTeam.
###