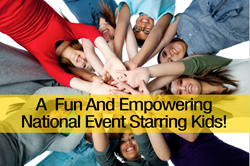 Through a multi-cultural lens and a variety of hands-on activities, girls are learning so many ways to make smart food and health choices for themselves and to become nutrition leaders. --Vickie Fish, Executive Director, Girl Scouts Guam
Baltimore, MD (PRWEB) June 22, 2016
"When you come to a fork in the road, take it," once quipped Hall of Fame baseball pitcher, Yogi Berra. A team led by Ingrid Kohlstadt MD, MPH and Joel Gittelsohn PhD, MSc at Johns Hopkins Bloomberg School of Public Health agree, "When you can put something on your fork that reduces asthma, prevents diabetes or conserves the environment, take it!"
The team designed and researched a 20-hour health intervention called NutriBee to empower 10-12 year olds to "choose the fork." Survey analysis found NutriBee participants improved diet and acquired the parameters associated with positive behavior changes. The study's findings are recently published online in the
Journal of the American College of Nutrition (June 17, 2016).
"We are pleased to have partnered with Johns Hopkins in the development of this fun and innovative venue to engage children in making positive nutrition behavior changes," said A. Dennis White, MetLife Foundation CEO.
Doctors may recommend NutriBee, but their prescriptions aren't filled in clinics. NutriBee was piloted in community-based clubs and camps, and 90% of the participants completed the program.
Vickie Fish, Executive Director of Guam Girl Scouts says, "The girls LOVE it! They/we are having FUN! They are tuned in 100%, eager to learn, enjoying the activities and asking lots of questions…Through a multi-cultural lens and a variety of hands-on activities, girls are learning so many ways to make smart food and health choices for themselves, and to become nutrition leaders. NutriBee meshes beautifully with the mission and goals of Girl Scouts!"
Doctors and teachers co-instruct NutriBee. It is the first published nutrition intervention to incorporate high school virtual peers.
"NutriBee starts in communities but it doesn't stop there," emphasizes Joyce Johnson, DO, Rear Admiral, USPHS (ret). "Once youth are empowered to reclaim their health, let's watch what else they'll achieve. NutriBee participants will be among the next generation of solution-finders for health and the environment." Dr. Johnson is not affiliated with the research.
Convinced that what happens at "home plate" can win health, Dr. Kohlstadt translated the Hopkins research by founding a nonprofit organization whose mission is making NutriBee available to medical and classroom professionals across the nation.