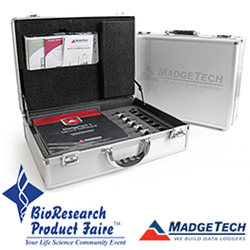 (PRWEB) June 28, 2016
At the Faire, MadgeTech representatives will highlight a variety of data loggers that facilitate sterile practice, a cornerstone of laboratory and clinical science, including the HiTemp140 series of loggers. These stainless steel loggers withstand operating temperatures up to 140 °C (284 °F) indefinitely and offer over 20 different models and probe styles to choose from. The HiTemp140-M12 model measures temperatures as high as 850 °C (1,562 °F) and is equipped with M12 connectivity for use with a multitude of compatible probes. The HiTemp140 series is widely used for high temperature applications in the medical industry to support contaminant elimination.
Faire goers will learn how MadgeTech data loggers fit into whatever sterilization system is already in place at their facility. For steam-based processes, MadgeTech offers a full Autoclave Validation System (AVS), which includes a variety of custom-selected loggers to fit user needs and measures both temperature and pressure within the autoclave.
For dry heat sterilization systems that require extremely high temperatures for longer periods of time, MadgeTech offers the ThermoVault140-DHS, a dry heat sterilization system that includes a data logger, glass braided RTD probe and stainless steel thermal barrier that can withstand and record in environments up to 400 °C (752 °F) for as long as 50 minutes.
MadgeTech representatives will also address how to simplify the challenge of maintaining cold chain for vaccines, medicines, and blood transport by using MadgeTech data loggers. The TransiTemp line provides low-cost, durable, highly precise loggers that monitor temperatures in transit or during storage. For cryopreservation or ultra-cold shipping and storage, MadgeTech offers both the dry ice-friendly Cryo-Temp, which measures temperatures as low as -86 °C (-123 °F), and the Liquid Nitrogen Data Logging System, which measures to -196 °C (-321 °F).
To round out these solutions, those in attendance at the Faire will see how MadgeTech 4 software displays real-time monitoring data and generates graph reports that are used to demonstrate compliance to industry standards. With just a few clicks, users can utilize math channels that calculate sterilization units and visually display lethality on the graph. MadgeTech 4 is packed with features to facilitate ease in accountability and report generation.
With the introduction of MadgeTech Cloud Services, all live data can be monitored remotely from a laptop, tablet, smartphone, or other internet-enabled device. This allows on-the-go review of data logging for an entire laboratory, factory, hospital, or even a network of facilities.
MadgeTech representatives will be present throughout the BioResearch Product Faire at Booth #5, and are more than happy to answer questions, demonstrate products, and guide customers to the perfect solution for companies large and small.
We hope to see you at the show!
For more information on data loggers and MadgeTech Cloud Services for medical, pharmaceutical, and laboratory applications, please call MadgeTech at (603) 456-2011 or email info(at)madgetech(dot)com.