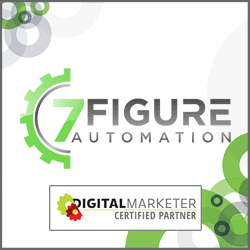 I've seen first hand how the 'CVO' process can double a business almost over night
Los Angeles, CA (PRWEB) June 23, 2016
"We chose to partner with Digital Marketer because their digital marketing systems have doubled the size of our business. We hope to carry on their mission and pay it forward," said Mark Marcellett, CEO of 7 Figure Automation.
"We are delighted to have 7 Figure Automation as a Digital Marketer Certified Partner," said Ryan Deiss, CEO of Digital Marketer. "With skilled and dedicated partners like 7 Figure Automation, we are confident that we'll achieve our goal of doubling the size of 10,000 businesses ahead of schedule."
As a Digital Marketer Certified Partner 7 Figure Automation has been trained, tested and certified on Digital Marketer's globally praised Customer Value Optimization (CVO) process. This coupled with the business's already impressive list of specialties enables 7 Figure Automation to lower customer acquisition costs while increasing immediate customer value for their clients.
"I've seen first hand how the 'CVO' process can double a business almost over night and we're excited have 9 members of the 7 Figure Automation team trained and certified to deliver this amazing process to new and existing clients", said Mark Marcelletti.
For more on 7 Figure Automation or to find out if they can help your business grow using the Customer Value Optimization process, visit: http://7figureautomation.com/
About 7 Figure Automation:
7 Figure Automation is an Infusionsoft marketing agency based in Los Angeles, CA. They use search engines, display ads, social media and email marketing to help small businesses create unstoppable growth for small businesses in North America.
About Digital Marketer:
Digital Marketer is a marketing research and training company based in Austin, TX with a mission of doubling the size of 10,000 small businesses in 5 years or less. With over 400,000 subscribers from across the globe, brands and businesses, both large and small, rely on Digital Marketer to stay on the leading edge of what's actually working in modern marketing and business growth.