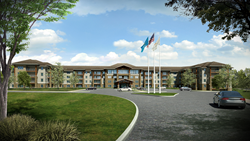 Ziegler is pleased to have had the opportunity to finance this new campus development in Stillwater, OK which will provide a continuum of care to local residents. The local community has waited 20 years for this community...
Chicago, IL (PRWEB) June 21, 2016
Ziegler, a specialty investment bank, is pleased to announce the successful closing of the $110,960,000 unrated, tax-exempt, fixed-rate Series 2016 Bond issue for Epworth Living at The Ranch (The Ranch). The Ranch is an Oklahoma not-for-profit community incorporated for the purpose of owning and operating a 380,000 sq. ft. continuing care retirement community (CCRC) on a 55-acre site in Stillwater, Oklahoma. Stillwater is located approximately 65 miles north of Oklahoma City and is the home of Oklahoma State University (OSU).
The Ranch will consist of 114 independent living apartments, 23 independent living villas, 48 assisted living apartments, 20 memory support suites, and 40 skilled nursing beds. The Ranch is supported by an endorsement with the OSU Alumni Association, which provides The Ranch marketing opportunities to alumni. The Ranch was 70.1% presold at the time of pricing.
The Ranch is sponsored by Epworth Living, a long-standing Ziegler client, is an Oklahoma not-for-profit corporation formed in 2012 to be the parent company for The Ranch and Epworth Villa, a CCRC in Oklahoma City.
The Series 2016 Bonds will be used to (i) fund the construction & development of The Ranch, (ii) refinance a $6.75 million predevelopment loan, (iii) fund interest for 24 months, (iv) establish debt service reserve funds, and (v) pay a portion of issuance costs. Epworth Living is contributing $2.03 million as equity to the financing. Liquidity Support Agreements (LSAs) total $4.5 million and consist of the following: (i) $2.0 million from The Weitz Company (the Construction Manager), $1.0 million from the OSU Alumni Association, and $1.5 million from Herman Meinders (the provider of the predevelopment loan). Unique to this financing is a replacement of the Weitz LSA through an intercept in the Entrance Fee Waterfall: after funding the $9.0 million Working Capital Fund and $2.5 million Operating Reserve Fund, the next $2.0 million is used to fund The Ranch's own LSA prior to the redemption of the "Temporary Debt." The 2016A Bonds ($88,460,000) mature in 2051 and comprise the "Permanent Debt" of The Ranch; the average yield is 6.85%. The "Temporary Debt" is comprised of $4,250,000 of 2016C Taxable MPS, 10,750,000 of Series 2016B-2 TEMPS-60, and $7,500,000 of 2016B-1 TEMPS-75, expected to be redeemed at 38%, 60%, and 75% occupancy of the independent living units, respectively.
John C. Harned, President and CEO of Epworth Living, Inc., stated, "We are grateful to Ziegler for their work on this successful financing which will bring a dynamic and vibrant full service Continuing Care Retirement Community to the residents of Stillwater, Oklahoma and surrounding communities. This is the fulfillment of a 20 plus year dream of many including the retired faculty, staff and alumni of Oklahoma State University and Ziegler played an integral role in helping us achieve this milestone."
"Ziegler is pleased to have had the opportunity to finance this new campus development in Stillwater, OK which will provide a continuum of care to local residents. The local community has waited 20 years for this community and Ziegler has been involved for over 15 years, serving as a resource to management, developers and local Board members in bringing this development to a successful conclusion," commented, Will Carney, Managing Director in Ziegler's senior living practice.
Ziegler is one of the nation's leading underwriters of financing for not-for-profit senior living providers. Ziegler offers creative, tailored solutions to its senior living clientele, including investment banking, financial risk management, merger and acquisition services, investment management, seed capital, FHA/HUD, capital and strategic planning as well as senior living research, education, and communication.
For further information on the structure and use of this issue, please see the Official Statement located on the Electronic Municipal Market Access system's Document Archive.
For more information about Ziegler, please visit us at http://www.Ziegler.com.
About Ziegler:
The Ziegler Companies, Inc., together with its affiliates (Ziegler), is a privately held, specialty investment bank with unique expertise in complex credit structures and advisory services. Nationally, Ziegler is ranked as one of the leading investment banking firms in its specialty sectors of healthcare, senior living, religion, and education, as well as general municipal and structured finance. Headquartered in Chicago, IL with regional and branch offices throughout the U.S., Ziegler provides its clients with capital raising, corporate finance, FHA/HUD, strategic advisory services and research. Ziegler serves institutional and individual investors through its wealth management and capital markets distribution channels.
Certain comments in this news release represent forward-looking statements made pursuant to the provisions of the Private Securities Litigation Reform Act of 1995. This client's experience may not be representative of the experience of other clients, nor is it indicative of future performance or success. The forward-looking statements are subject to a number of risks and uncertainties, in particular, the overall financial health of the securities industry, the strength of the healthcare sector of the U.S. economy and the municipal securities marketplace, the ability of the Company to underwrite and distribute securities, the market value of mutual fund portfolios and separate account portfolios advised by the Company, the volume of sales by its retail brokers, the outcome of pending litigation, and the ability to attract and retain qualified employees.
# # #