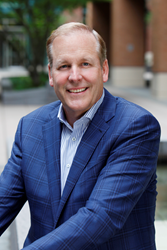 "By putting people and partnerships first at Avenue5, and maintaining hands-on involvement in each asset at all leadership levels, we improve time to value for our customers," stated Smith
Seattle, WA (PRWEB) June 22, 2016
Former Riverstone Residential Group CEO Walt Smith and his partners Pål Ottesen and Steve Davis have launched third-party property management services at Avenue5 Residential. The multifamily management firm, which originally commenced operations with a 6,500-unit first-party-managed portfolio in early 2014, currently oversees an 11-state portfolio of 135 properties with 25,000 units. This portfolio is located in markets across the Western United States and Texas, and will soon include assets in the Northeast/Mid-Atlantic region.
Smith, Avenue5's chief executive officer, was one of the three founding principals of HSC Real Estate and served as its president from 2001 to 2008, until it was sold to Riverstone. From 2009 to 2013, he served as chief executive officer of Riverstone. Smith's HSC partners and Riverstone leadership colleagues, who are now serving in executive roles at Avenue5, include Ottesen, who is the chief financial officer, and Davis, who is the chief operations officer. Leveraging their collective expertise, they initiated Avenue5's third-party management services in order to execute their vision of delivering a premier level of service for all types of multifamily clients.
"Whether they are institutional investors, advisors, or high-net-worth individuals, multifamily owners should expect proof over promises," affirmed Smith. "We are delivering on these expectations by hiring highly experienced operations and business services leaders with proven track records, streamlining processes that are unnecessarily complex, and favoring agility, allowing us to maintain an unwavering focus on our clients' properties."
Smith observed that the current state of the multifamily industry provides unique opportunities for mid-sized property management firms such as Avenue5. He noted that the continued apartment construction boom and consolidation of third-party management companies is resulting in increased demand for property management service providers that accelerate results through personalized solutions and services and incorporate a high-performance, high-engagement work culture. Smith added that the Avenue5 executive team and local leaders make frequent site visits, during which they explore asset successes and challenges in-depth.
"By putting people and partnerships first at Avenue5, and maintaining hands-on involvement in each asset at all leadership levels, we improve time to value for our customers," stated Smith. "From our groundskeepers and porters all the way through our portfolio operations leaders, our associates are empowered to deliver distinctive customer experiences, and to foster long-term, mutually beneficial connections in the neighborhoods where we live and work."
About Avenue5 Residential
Avenue5, a multifamily property management services firm, oversees 135 properties with 25,000 units in 11 states. The company is headquartered in Seattle, has an office in Phoenix, and retains local experts in and around major markets including Spokane, Southern and Northern California, Reno, Las Vegas, Portland, Salt Lake City, Albuquerque, Denver, Colorado Springs, Austin, Dallas, and the Northeast/Mid-Atlantic region. Avenue5 employs about 700 associates nationwide. http://www.avenue5.com