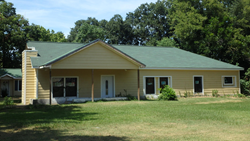 We're grateful that as a family-owned business, we can give meaningful solutions that have an incredible impact on those we serve.
Houston, TX (PRWEB) June 24, 2016
Armed with investors with ready cash, real estate professionals with court experience, appraisers, title companies and licensed and bonded contractors, McIntyre Investment Properties (MIP) corners the Houston market on home sales. To that end, the investment firm recently launched a campaign to target out-of-state homeowners who own property in the greater Houston area. From Houston to Austin to San Antonio, MIP sends out a net to inform those with property to sell that the company will buy their house quickly, regardless of its condition. A windfall for homeowners who inherited property had to make a move for business reasons, or have fallen on hard times; MIP makes life simpler within ten working days.
Because of partnerships with investors poised to buy Houston homes fast, MIP doesn't have to go to the local bank to get a home loan. Thinking ahead, it doesn't have to employ lawyers to navigate court systems should legal issues loom over the property either. Their team includes several real estate professionals who can help clients through any daunting situation. From appraisals to title concerns, to minimal or monumental repairs, the investment firm comes equipped to orchestrate home sales in Houston flawlessly.
Recently enlarging the size of their investor network to include the Houston area, MIP partners see the potential to increase market value for properties and turn a profit. This meets the company's mission - to help more families encumbered by homes that hinder their struggle for financial recovery.
"Our bottom line is simple; we want to quickly help homeowners who are under the strain of properties they can't use. We were never happier than when we bought an elderly client's home after her husband died. He was in the middle of home repairs when he passed away, and she wasn't able to finish the renovations. Within days, she had money in the bank and worries off her mind. We're grateful that as a family-owned business, we can give meaningful solutions that have an incredible impact on those we serve." said McIntyre Investment Properties President, Laurie McIntyre.
About McIntyre Investment Properties:
McIntyre Investment Properties is a family-owned real estate investment company whose main office is in Anacortes, Washington. MIP offers an array of services to homeowners and private investors. The owners live by their motto: "Serving families by providing affordable housing to build strong communities."
To find out more, call 877-615-2422.
Contact Information:
Tim McIntyre
McIntyre Investment Properties, Inc.
http://www.mcinvestment-properties.com
832-615-2422
360-202-1728