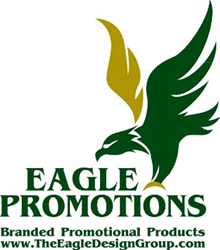 We are honored to be recognized once again by Promo Marketing as one of the leading promotional distribution companies in the nation. We are very proud of our hard working and dedicated staff and employees. - Mario Stadlander, Co-Owner, Eagle Promotions
Las Vegas, NV (PRWEB) June 23, 2016
Eagle Promotions is excited to announce that Promo Marketing has named it in the 2016 Top 50 Distributors list. This is the second time in three years that Eagle Promotions has received the distinction as being one of the Top 50 Distributors in the nation, out of 23,000 promotional companies.
Promo Marketing is a leading publication for the promotional industry. Every year, Promo Marketing reviews and ranks the industries Top 50 Distributors based on sales numbers from the prior year. According to Kyle A. Richardson, editorial director for Promo Marketing, "This year's [2016] Top 50 Distributors had total promotional products sales of over $4.5 billion—a nearly 8 percent increase over last year." This is as sure a sign as any that "these [Top 50 Distributors] truly are the top distributors in the game today." See - http://magazine.promomarketing.com/article/promo-marketing-announces-the-2016-top-50-distributors/
Mario Stadtlander, co-owner of Eagle Promotions said "We are honored to be recognized once again by Promo Marketing as one of the leading promotional distribution companies in the nation. We are very proud of our hard working and dedicated staff and employees for their relentless focus on delivering the best quality services and products to our customers."
Eagle Promotions is a leading example of the promotional industry's cutting-edge visionaries. Eagle Promotions recently expanded to a 75,000 sf facility. Its in-house screen-printing facility makes Eagle Promotions one of the largest screen printers in the USA, printing 20,000-40,000 garments per day. Eagle Promotions continually develops new printing techniques, offers both in-house graphic artists and in-house embroidery services, and sources products from other countries.
About Eagle Promotions:
Eagle Promotions is a certified minority owned company specializing in custom promotional branded products and apparel. Eagle Design Group, a division of Eagle Promotions, also offers custom retail branded merchandise and fashion and trend forecasting for its global retail clientele. As an industry leader, Eagle Promotions offers its clients' incentive solutions, online stores, managed programs, special orders and more. Eagle Promotions offers partnerships with the worlds most recognized and sought after brands while delivering the best quality and cost with their operational expertise. Its' clients include Fortune 100 companies, theme parks, hotels, casinos, professional sports teams, airport retailers, celebrities and some of the most iconic branded products in the world. For more information about Eagle Promotions, call (702) 785-7100 or visit http://www.eaglepromotions.com. Eagle Promotions is located at 4575 W. Post Road #100, Las Vegas, NV. 89118
# # #