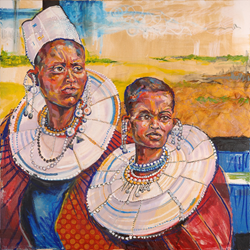 "Santa Fe has remarkable diversity in it's creative community" Carole Baker, Cherry Pie Social
Santa Fe, NM (PRWEB) June 24, 2016
2016 Santa Fe Studio Tour fine artists Robbi Firestone, Brianne Janes, Montana Walsh and Angel Wynn will celebrate social media giant Carole Baker of Cherry Pie Social on the company's 2nd Anniversary. Sponsored by Santa Fe Art Classes, the artists invite Santa Fe to celebrate this social media maven and philanthropist who contributes so much to the community.
In a city brimming with galleries, guests and visitors will have an opportunity to buy artwork directly from four of Santa Fe's most notable female artists on the last weekend of the 2016 Studio Tour; Saturday and Sunday, June 25 & 26, 2016, from 10am to 5pm. The #LastCall4Art Party" to celebrate Cherry Pie Social will be Saturday, June 25, from 5-8pm. Come by studios #13, 14, 15, and 16, at 621 Old Santa Fe Trail, Santa Fe NM 87505.
2016 Santa Fe Studio Tour allows the general public free, self-guided access to tour any number of open studios and discover original art – paintings, photography, sculpture, jewelry, ceramics and other unique works — with 90 of Santa Fe's premier artists, a "dynamic, yet intimate total immersion in art where visitors can talk with the artists, experience their working environments and purchase art, all while enjoying the landscape of New Mexico, touring from one studio to the next!"
This event is sponsored by Santa Fe Art Classes. Painting instruction for total beginners, all supplies are included. With four public classes a week and designed for tourists, visitors and locals, participants leave the studio with a mini masterpiece completed in 2 hours. Pre-registration is required at http://www.SantaFeArtClasses.com.
Notably, at the studio tour, renowned artist Robbi Firestone is presenting her figurative Maasai works, yet her current artistic focus is a large scale, 17 piece, sculptural art installation, The Empty Womb. Parade Magazine (with readership 54 million) featured Firestone's The Empty Womb work on Super Bowl Sunday issue, January 31, 2016.
Built from Firestone's personal invitro medical supplies, video, industrial objects, and traditional women's work (embroidery, crochet, lullabies), this work has already generated national press while being built in Firestone's studio. Internationally award-winning filmmaker, Betsy Chasse, is currently completing a documentary about Firestone's installation. The Empty Womb film will premier at the most significant 2016 Film Festivals. Firestone's artwork, The Empty Womb, is available by appointment only for Museum Curators, Board members, VIPS and press. Visit http://www.RobbiFirestone.com for more information.
Cherry Pie Social's was founded in 2014 by Carole Baker, CEO/Founder, Cherry Pie Social's rise to success has been propelled by Carole's infectious enthusiasm, professionalism, and her ability to orchestrate and elevate social media exposures for any business driven towards success . . . through the implementation of proven, cutting-edge social media marketing and promotion strategies.
Cherry Pie Social is based in Santa Fe, but they work nationally as well. Ms. Baker specializes in the vertical markets of art & film, organic foods, women's beauty and health, along with progressive sustainability organizations. Carole's first client in Santa Fe was the beloved PBS documentary film project, Awakening in Taos.
"The art community has been very supportive here... Santa Fe is an exciting place to base a social media company, because of the population and remarkable diversity of it's creative community!" - Carole Baker
See more about the 2016 Santa Fe Studio Tours by following this link: http://www.santafestudiotour.com/the-tour
#
Contact:
Robbi Firestone
Muse(at)SantaFeArtClasses(dot)com
(310) 990-4018