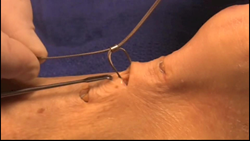 The PONTiS proprietary technology allows surgeons to produce a consistently stronger repair.
San Francisco, CA (PRWEB) June 23, 2016
PONTiS Orthopaedics LLC (http://www.pontisorthopaedics.com), announced today the launch of the PONTiS Achilles System for the repair of injured Achilles tendons. This is the Company's first product aimed at the foot & ankle surgery or sports medicine market. "The PONTiS proprietary multifilament stainless steel implant technology allows surgeons to produce a consistently stronger repair in less time," said Tom Ross, COO of PONTiS. "Building on our success with hand surgeons performing flexor tendon repair with PONTiS, we're excited to begin partnering with foot & ankle surgeons as we enter this large market segment," he continued.
About PONTiS Orthopaedics LLC
Located in San Francisco, and directed by seasoned medical device executives, PONTiS has developed the unique PONTiS™ Surgical Instrument and Implant System for the repair of tendons and for re-connection of tendons to bones in the hand, wrist, elbow, shoulder, knee, foot and ankle.
The PONTiS technology has been documented to produce a stronger repair than current alternatives and also enables minimally invasive repair methods not previously available – reportedly requiring shorter OR times and more rapid recovery. The PONTiS system for the repair of Achilles tendons addresses a market with over 200,000 potential procedures annually in the USA alone. The company's IP also accesses additional orthopedic markets and PONTiS also has obtained FDA clearance for Biceps tendon re-attachment at the elbow and shoulder, Patella tendon repair at the knee and ligament repair in the wrist.
Further information: Please contact Tom Ross, PONTiS COO, at tross(at)pontisorthopaedics(dot)com or 1-408-656-1585.