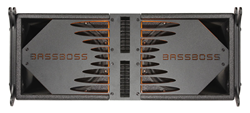 The LA88 essentially introduces a new class of line array, for where bigger and heavier boxes can't fly and where less effective and less powerful boxes can't reach
Austin, TX (PRWEB) June 22, 2016
Austin-based powered loudspeaker manufacturer BASSBOSS introduces its LA88 small-format line array, perfectly suited for clubs, festivals and a range of other indoor and outdoor applications. The LA88 is designed to deliver unsurpassed fidelity with a flat frequency response, along with high output, a broad coverage pattern, and a long throw. Equally impressive is the form factor of the LA88, which is lightweight, durable and attractive. A built-in 3000W class D amplifier allows the LA88 to outperform any other speaker in its class — all while retaining BASSBOSS's trademark plug-and-play setup and reliable operation.
A Massive Sonic Output in a Miniscule Footprint
"We designed the LA88 line array to offer extensive output from a minimal frontal area," explains BASSBOSS President and Founder David Lee. "By employing a narrow aperture wave-guide and then rapidly transitioning the output to a flat fascia, the LA88 is able to deliver up to 140 degrees of coverage, reaching oft-neglected audience areas to the far left and right of speaker hangs." Ready to fly at a lean 55 lbs each, the LA88's dimensions (25.25" wide x 19.5" deep and 9.75" high) can hang with an overall width of 28.5" with rigging pins inserted in the flyware, leaving clean sight lines and the ability to pass through 30" doors while pinned together on their optional transport and ground-support cart.
The LA88 also delivers remarkable bass output for its size, delivering +-3 db from 50Hz to 18,000Hz in full-range mode. Subwoofer integration also enables the LA88 to deliver even higher levels of output by activating satellite mode, which engages a high-pass filter that maximizes midrange output. BASSBOSS offers flyware-compatible 15", 18" and 21" subwoofers that can fly above or serve as support platforms below the LA88s.
Flying High with 3000W of Power
Like all BASSBOSS loudspeakers, the LA88 Line Array is powered internally for easy and reliable setup and operation. The LA88 sports a 3000W EIAJ Powersoft class D amplifier, enabling dynamic power that is super-efficient while performing well beyond any other line array its size. "The decision to make a 3000W small-format line-array was based on practicality and logic," Lee says. "An extraordinarily capable, small, lightweight, and versatile cabinet that can array in multiples for outstanding performance is the best way to take advantage of all the benefits of line-array technology. Longer lines offer better vertical directivity. Multiple smaller line segments provide superior and more detailed control of vertical coverage. Thus for the same weight, a larger quantity of small, powerful boxes offers better performance, coverage and control than fewer, bigger boxes." The LA88's amplifier can also achieve optimum performance on mains voltages from 90 to 250V, ensuring compatibility with all power supplies worldwide.
Casting Sound Far and Wide
The LA88 achieves maximum midrange propagation by using BASSBOSS's proprietary multi-aperture summing technology. The technology compression loads the LA88's 8" drivers to improve midrange sensitivity, while dividing the summed acoustical output over multiple small apertures, allowing the mid frequencies to sum coherently on the vertical axis for longer throw and better definition. The apertures also improve horizontal dispersion by narrowing the mid frequency radiating area. Box-to-box high-frequency device vertical coupling is optimized in the LA88, allowing them to deliver line-source behavior higher up the frequency spectrum than virtually any other line array system. This allows the LA88's high frequency drivers to perform more efficiently and project high frequencies over greater distance using less power. The result is improved clarity at distance and greater overall reliability.
Made to Last: On the Road or in the Club
The LA88's reliability is not limited to its design and internal components; its cabinets are made in the USA from premium Baltic Birch. Touring versions are finished in a black polyurethane bedliner coating. Touring flyware and metalwork is available in powder coated black or decorative bright-brushed aluminum. Indoor installation versions are
available in white or black with matching or contrasting flyware. A waterproof fiberglass finish is available for permanent outdoor installations. These weatherized versions also feature waterproof passive input wiring and rack-mount amplifiers.
The Future Is in the Air
"BASSBOSS continues to push perceived limits and exceed expectations with the LA88 Line Array," says CEO Lian Amber. "Thanks to David Lee's passion to innovate, never before has a small-format line array delivered such a compelling combination of massive power, long throw, broad coverage and fine detail. It is a must-have solution for applications where intensity, clarity and extensive coverage are demanded but the system size and weight is limited. The LA88 essentially introduces a new class of line array, for where bigger and heavier boxes can't fly and where less effective and less powerful boxes can't reach."
About BASSBOSS
BASSBOSS creates premium, ultra high-fidelity sound systems for the professional prosumer, live sound and systems integration markets. The company was founded on the design and engineering expertise of David Lee, a pioneer in subwoofer design whose work has transformed the audio systems for hundreds of venues across North America. BASSBOSS systems are easily integrated, compact and power-efficient. Each cabinet is self-contained, with comprehensive amplification and processing capabilities. For more information on BASSBOSS, please visit http://www.bassboss.com