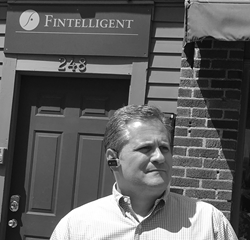 With my Sennheiser PRESENCE™, I know I can trust the audio quality and that this will never be a concern. This is by far the best Bluetooth device I have ever used, and it speaks volumes about the company
Old Lyme, Conn. (PRWEB) June 22, 2016
Sennheiser announced that Chatham, NJ-based Fintelligent is among the companies using Sennheiser's new Presence Bluetooth headset. Communication is the lifeblood of innovation. And whether communication is happening in office huddle rooms, over Unified Communications conferencing systems, inside automobiles or in the airport, that quality of voice communications is vital to successful outcomes. As founder and president of Fintelligent, Rob Ripp is constantly providing financial guidance to multi-million dollar companies seeking to take their businesses to the next level. Each day, he relies on Sennheiser's PRESENCE™ Bluetooth headsets for his communication, whether he is in the office, or 'on the go'.
While every hour of every day may look slightly different for Mr. Ripp, his overall goal remains the same: to handle the finance and accounting elements of his clients' businesses so they can gain the visibility and confidence they need to make informed, strategic decisions on how to best grow their individual businesses. "If you are an entrepreneur with a product or service and are really hitting your stride, it's very important that your financial operations keep momentum with your business growth," says Mr. Ripp. "We have a team of people and a cloud-based technology platform that manages all financial operations so entrepreneurs can focus on growing their companies."
With its brick and mortar headquarters located on Main Street of the charming downtown historic district of Chatham, NJ, Fintelligent is fully operational as a 'virtual company', and its management team able to serve its clients from anywhere in the world. In Mr. Ripp's case, this can range anywhere from the corner office at headquarters, to his kitchen at home where he can be found preparing dinner each night for his daughter as a single dad. Following are four randomized snapshots of activities that might occur in Mr. Ripp's day, from his own perspective:
8:22 a.m. - "The first hour is the most important part of my day — it's when I set up my meetings and prepare for client meetings and webinars. If I have any deliverables that day, it is almost always involving a spreadsheet and a computer. If they are not in the office, I will reach out to my team member with my PRESENCE™ to see where we are on certain projects or what deliverables we may have as a team." Ripp says that clarity in communications among team members is crucial: "If our voice communication is anything less than perfect, it can be very distracting, so we work very hard to ensure we are using the best possible communication tools. The Sennheiser PRESENCE™ plays an invaluable role here." Helping ensure effective communications is Sennheiser's Advanced Own-Voice-Detector, which continuously monitors the environment and provides optimal speech intelligibility while reducing disturbing background noise.
9:43 a.m. - "If I am not on a call with team members, I am usually on conference calls with clients," says Mr. Ripp. "Whether I am speaking OR listening, I don't want my clients to hear any background noise at all —especially if I am typing notes on a keyboard. While using the PRESENCE™, I am assured that they are hearing superb clarity, without the background noise. I know this because they never complain!" The PRESENCE™ has been improved to more effectively reduce background noise and a consistent, clear listening experience that professional communication demands. To achieve this, the PRESENCE™ leverages three digital built-in microphones, working in tandem with other advanced technologies.
2:16 p.m. - "Sometimes I will go out for a walk on Main Street in Chatham, which is beautiful this time of year. Getting out of the office helps me put perspective on things. It is reassuring for me to know that I can carry on business communications even if there are wind gusts up and down Main Street, or while I am standing on a corner — because none of this is audible." The PRESENCE™ incorporates Sennheiser's patented WindSafe™ technology, which automatically selects the best mix of the three microphones to optimize voice and reduce wind noise.
6:46 p.m. - "While the PRESENCE™ is mostly an office tool for me, I am a single dad who often takes calls at night. I will often use it while I am cooking for my daughter, so I can use both hands and speak at the same time. In this scenario, the PRESENCE™ allows me to catch up on personal calls, or even handle a client call later in the evening. To that end, it has to fit right and feel secure when I am truly 'hands free'." With Sennheiser's PRESENCE™, users can choose from three comfortable and secure wearing styles: in-ear, earhook or the new headband version. The headband can be conveniently placed in its charger when not in use.
For Mr. Ripp, PRESENCE™ helps establish more intelligibility and integrity around his audio communications — no matter when or where he is communicating from, or who they are with: "With my Sennheiser PRESENCE™, I know I can trust the audio quality and that this will never be a concern. This is by far the best Bluetooth device I have ever used, and it speaks volumes about the company."
About Sennheiser
Audio specialist Sennheiser is one of the world's leading manufacturers of headphones, microphones and wireless transmission systems. Based in Wedemark near Hanover, Germany, Sennheiser operates its own production facilities in Germany, Ireland and the USA and is active in more than 50 countries. With 19 sales subsidiaries and long-established trading partners, the company supplies innovative products and cutting-edge audio solutions that are optimally tailored to its customers' needs. Sennheiser is a family owned company that was founded in 1945 and which today has 2,750 employees around the world that share a passion for audio technology. Since 2013, Sennheiser has been managed by Daniel Sennheiser and Dr. Andreas Sennheiser, the third generation of the family to run the company. As part of the Sennheiser Group, the joint venture Sennheiser Communications A/S is specialized in wireless and wired headsets and speakerphones for contact centers, offices and Unified Communications environments as well as headsets for gaming and mobile devices. In 2015, the Sennheiser Group had sales totaling €682 million. http://www.sennheiser.com