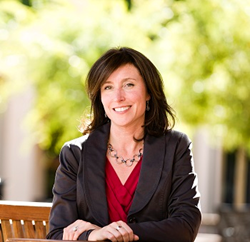 Scripps College's mission is based in a value I enthusiastically embrace--that education is a core ingredient of a just society. ~Dr. Larissa Tiedens
Claremont, Calif. (PRWEB) June 22, 2016
Dr. Larissa Z. Tiedens was appointed as the ninth president of Scripps College on June 21, 2016, by a unanimous vote of the College's Board of Trustees. She will hold the title of the W.M. Keck Foundation Presidential Chair, established in 1980.
Dr. Tiedens is a distinguished scholar of social psychology and an influential leader committed to expanding opportunities for women. Dr. Tiedens, who is currently senior associate dean of academic affairs and Jonathan B. Lovelace Professor of Organizational Behavior at Stanford Graduate School of Business, has influenced academic and administrative initiatives throughout the Stanford University campus.
Trustees noted that Dr. Tiedens' results-oriented, innovative, consensus-building leadership style will ensure her success at Scripps College. "Dr. Tiedens' exemplary academic career and her impressive leadership record make her uniquely qualified to guide Scripps College into the future," said Mark Herron, chair of the Board of Trustees.
"We have no doubt that her understanding of the academy, commitment to advancing women's leadership, and deep appreciation of the liberal arts college experience will be tremendous assets to the Scripps community and The Claremont Colleges."
As senior associate dean of academic affairs at Stanford Graduate School of Business, Dr. Tiedens oversees educational technology, executive education, case writing, and faculty development for the finance and marketing areas. She designed the school's current leadership curriculum, which has become one of the hallmarks of the Stanford Graduate School of Business MBA program. Dr. Tiedens previously served as the Morgan Stanley Director of Stanford's Center for Leadership Development and Research, and has also directed the PhD program and the Global Innovation Program for Stanford Graduate School of Business. Dr. Tiedens' full curriculum vitae is available here.
Dr. Tiedens received her BA in psychology from Carleton College, graduating magna cum laude, with membership in Phi Beta Kappa and Sigma Xi for distinction in her major and thesis. As an alumna of a liberal arts college, Dr. Tiedens is eager to return to her roots in the undergraduate liberal arts environment.
"My liberal arts college experience was transformational, in that I learned to think broadly, deeply, critically, and constructively about the most complex issues of our time. Scripps College exemplifies everything that is wonderful about the liberal arts experience. The faculty members are scholars dedicated to the intellectual development of outstanding students who strive to make the world better, and the distinguished alumnae illustrate the powerful effect of a Scripps education," Dr. Tiedens said.
"Scripps' mission to support and advance women is of critical importance today. This mission is based in a value I enthusiastically embrace—that education is a core ingredient of a just society. I am honored to join the Scripps community, and look forward to working with faculty, students, staff, alumnae, and parents in the pursuit of academic excellence at this important time in Scripps' history."
Dr. Tiedens was unanimously selected from a highly competitive applicant pool developed over the course of a nine-month search process. Trustees Robert Sacks, parent of a Scripps alumna, and Betsy Smith, a Scripps College alumna, co-chaired the Presidential Search Committee, whose membership comprised trustee, faculty, student, alumnae, and parent representatives.
"Dr. Tiedens has the energy, vitality, and intelligence to propel Scripps College to the next level of distinction as a premier women's and liberal arts educational institution," said Smith.
"Her impressive academic achievements and leadership experience within the Stanford community will be invaluable assets that will enhance our curriculum, our community, and our ambitious plans for the next generation of Scripps students."
Dr. Tiedens' scholarship focuses on the psychological roots of inequality and the role of emotions in organizational life. She has published widely on these topics, served as an associate editor of the Journal of Personality and Social Psychology, and sits on several editorial boards.
Over the course of her career, Dr. Tiedens has earned numerous awards and honors for teaching, research, and leadership. She was selected as a Society for Personality and Social Psychology Fellow for her longstanding contributions to the field and spent a year as a fellow at the Center for Advanced Study in the Behavioral Sciences.
Search committee co-chair Sacks lauded Dr. Tiedens for her deep understanding of the changing higher-education landscape and for her ability to achieve success in a traditionally male-dominated environment.
"Dr. Tiedens' colleagues describe her as a powerful advocate for women faculty and students at Stanford. Her experience and success as a woman leader in that environment will serve as an excellent role model for Scripps students," Sacks said.
Dr. Tiedens helped create a Research Fellows program, which aims to increase the representation of women and minorities in the academy, she was the Stanford representative at the White House Convening on Expanding Opportunities for Women in Business, was a member of the Task Force on Women's Leadership at Stanford, serves on the faculty advisory board of the Stanford Center for the Advancement of Women's Leadership, and directs an executive program from women entrepreneurs.
Dr. Tiedens earned her MA and PhD in social psychology from the University of Michigan.
Dr. Tiedens replaces Scripps College Interim President Amy Marcus-Newhall effective August 1, 2016. Marcus-Newhall will return to her previous position as vice president of academic affairs and dean of faculty.
Scripps College is a top-ranked liberal arts women's college that offers an interdisciplinary curriculum, rigorous intellectual environment, and a rich residential experience designed to shape the next generation of women scholars, leaders, and change makers.