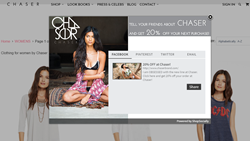 We are impressed and highly satisfied with the results ShopSocially's marketing platform has helped Chaser achieve. - Philip Williams, Director of Communications, Chaser.
(PRWEB) June 23, 2016
ShopSocially has confirmed today that one of its industry-leading apps, Refer-a-Friend, has been instrumental in the achievement of a 16.42% interaction rate to the referral program for the popular Chaser online contemporary clothing store. A combination of attractive discount from Chaser and ShopSocially's customized referral interface placed in strategic locations of the website resulted in the huge participation to their referral program. This referral traffic later converted at an impressive sales conversion rate of 6.52%. The use of Refer-a-Friend app meant that for every person referring their friends across various social media platforms, two of their friends visited the Chaser website using specific referral link.
"We as a company set the trends early for Summer 2016 with our much sought after and ultra-creative look books," explained, Philip Williams, Director of Communications, Chaser. "With ShopSocially, we are reaching more new milestones in the ever advancing and competitive e-commerce clothing world. We are impressed and highly satisfied with the results ShopSocially's marketing platform has helped Chaser achieve."
Refer-a-Friend, as the name would suggest, is super user-friendly. Chaser's website visitors are encouraged to refer their friends to receive 20% off their next purchase. Such an incentive has been a huge hit as traffic is referred through the most popular social media channels like Facebook, Pinterest, Twitter and more or simply via email. ShopSocially's referral marketing solution builds upon existing momentum from both, loyal customers and new site visitors who want to tell their friends, family, co-workers, social media connections and other contacts in just one click. The app makes it easy to understand why word of mouth is the most powerful form of marketing and has been tracked to be up to 7X more effective than costly advertising campaigns. Detailed reports, analytics, A/B testing, personalization, and control over where precisely the app is displayed put online retailers in the driving seat.
Chaser is also using ShopSocially's Customer Q&A app on its product pages. Should a website visitor have a question about any clothing item in the extensive range, Customer Questions and Answers is readily accessible right there on that particular web page. The smart app allows visitors to engage the wider Chaser community where answers are ranked according to most voted and newest while the company gains invaluable insights into the experiences of their customers. These conversations have a powerful effect on user engagement levels providing instant social proof. This Customer Q&A app can boost sales conversion rates by up to 21% and important user community engagement by up to 26%. What's more, user generated content, is leveraged to naturally boost SEO rankings with major search engines.
Chaser is also using ShopSocially's Social Login and Photomonials app. The social login app eases the site registration process using your social account credentials resulting in an increase in registration rates by up to 33% and an average reduction in shopping cart abandonment of 46%. On the other hand, ShopSocially's Photomonials app can convert viral "selfies" into sales. Customer generated photos, where clients are wearing your products, is a strong social proof mechanism and these photos can be set as "shoppable". Engagement increases by up to 15% and conversion rates rise by up to 21%.
"An interaction rate of 16.42% and a sales conversion rate of 6.52% with Chaser shows how both companies are moving with market needs," said, Samir Palnitkar, President of ShopSocially. "We instantly adapt to the developing e-commerce and social media landscapes to customize apps to drive continued growth for our customers across many sectors, including clothing retail."
About Chaser:
Chaser has grown into one of the world's leading online fashion authorities constantly featured on major international T.V. shows and global trendsetting magazines. Chaser sets the standards in high-quality stylish women's and children's clothing collections, swimwear, intimates, and accessories. The company quickly earned the loyalty of major Hollywood, music and television celebrities including; Kendal Jenner, Heidi Klum, Hilary Duff, Leann Rimes and Denise Richards. Its range of hugely popular boys and girls wear has been worn by the children of Mariah Carey and Chris Pratt. See why by visiting our website: https://www.chaserbrand.com/
About ShopSocially:
ShopSocially is a SaaS-based, social, referral and loyalty marketing platform that delivers up to 40% more revenue by enabling an increase in new customer acquisition, engagement, conversion rate and retention. More than 500 global brands are using ShopSocially to grow their business via proven strategies such as referral marketing, visual commerce, customer loyalty, social login, social gamification, customer Q&A and more.
ShopSocially platform offers a comprehensive suite of marketing solutions which eliminates the need to implement multiple, inconsistent solutions and delivers a measurable ROI. Our fully managed service option ensures no additional work for your marketing or IT team.
ShopSocially has won several awards and recognition's for its innovative technology. To learn more how ShopSocially can help grow your business, please contact us at (650) 701-7759 or at http://www.ShopSocially.com