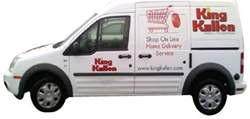 Bethpage, NY (PRWEB) June 23, 2016
King Kullen's Shop OnLine, the online grocery delivery service at King Kullen, has expanded, and is now offering service to yet another location: Garden City Park. This is the fourth store to be added to the already-existing locations: Bay Shore, Bridgehampton and Island Park.
Online grocery delivery service is offered by King Kullen and allows customers to place orders online to be picked up at any of the available store locations or to be delivered to their home. Orders can be placed up to two weeks in advance or as little as four hours ahead of time.
Tracey Cullen, King Kullen's Director of Pricing and Social Media, explained that customer orders are handpicked by trained personal shoppers who ensure that high-quality items are always selected.
The newest location — Garden City Park — will be delivering to the following towns:

Albertson
Baxter Estates
Brookville
Upper Brookville
East Hills
Flower Hill
Garden City and Garden City Park
Great Neck, Great Neck Estates, Great Neck Gardens and Great Neck Plaza
Greenvale
Harbor Hills
Herricks
Jericho
Kensington
Kings Point
Lake Success
Lakeville Estates
Manhasset and Manhasset Hills
Manor Haven
Mineola
Munsey Park
New Hyde Park
North Hills
North New Hyde Park
Old Westbury
Plandome, Plandome Heights, and Plandome Manor
Port Washington and Port Washington North
Roslyn
Roslyn Heights
Russell Gardens
Saddle Rock
Saddle Rock Estates
Sands Point
Searingtown
Thomaston
Williston Park
Pick-ups and deliveries are available seven days a week for all four King Kullen stores with the Shop OnLine services.
King Kullen has also recently expanded its Fire Island ferry delivery service. The Bay Shore location is now delivering via three ferries: Bay Shore, Patchogue and Sayville. The Bay Shore ferry delivers Tuesday through Saturday to Atlantique, Dunewood, Fair Harbor, Kismet, Ocean Bay Park, Ocean Beach, Saltaire and Seaview. The Patchogue ferry delivers on Tuesday, Friday and Saturday afternoons to Davis Park and Ocean Ridge. The Sayville ferry delivers on Wednesday, Thursday and Friday to Fire Island Pines and Cherry Grove.
To learn more about King Kullen's products and services, visit a nearby location or visit their website. For all pick-up and delivery information, a complete list of delivery locations, or to place an order, visit: http://www.kingkullen.com/shoponline/.
About the Company:
Headquartered in Bethpage, New York, King Kullen Grocery Co., Inc. is recognized by the Smithsonian Institution as America's first supermarket. Michael J. Cullen opened the doors of King Kullen in 1930. Today, four generations later, King Kullen is still family owned and operated. It remains a leader in the supermarket industry. From that very first store in 1930, King Kullen today operates 36 supermarkets and five Wild by Nature stores across Long Island. In addition to traditional grocery, King Kullen features a large catering and prepared foods department, freshly-baked breads and sweets, and healthy and organic areas, with pharmacies in many stores as well.