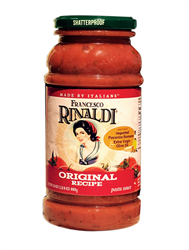 "Many products thermally processed under more demanding conditions have not been able to convert into lightweight plastic, until now."
Lancaster, PA (PRWEB) June 24, 2016
Graham Packaging Company has received the industry's highest accolades for resolving multiple packaging challenges in one new product. The company's proprietary ThermaSet® Blow Molded PET Container for hot-fill, pasteurized food reduces breakage, downtime, shipping and waste throughout the supply chain, offering brand owners, fillers and retailers significant cost savings, while providing improved safety and handling to consumers. Graham Packaging has been awarded the DuPont Diamond Award for Packaging Innovation, as well as the 2016 AmeriStar award in the Shelf-Stable Food Category, for the comprehensive solution ThermaSet® provides to long-standing industry challenges.
"This has been one of the last big conversion opportunities, and it has the potential to create positive change in the center of the store," says Tim Feast, President of Specialty Food and Beverage at Graham Packaging. "Many products thermally processed under more demanding conditions have not been able to convert into lightweight plastic, until now. Consumers are very comfortable with the look and feel of this type of package, and when they understand the benefits, our research shows they may actively select brands in plastic."
The substantial cost and energy savings potential starts with extreme lightweighting: 24oz ThermaSet® PET pasta sauce jars are almost 90 percent lighter than glass. That translates to nearly 40 percent more trays in each truck, and 28 percent fewer trucks on the road. Additionally, ThermaSet®'s shatter resistance means that breakage – one of the largest sources of waste throughout the supply chain – is virtually eliminated. This ultra-lightweight, shatter resistant container is particularly well suited to the package and logistics requirements of club and drug stores, and the emerging E-commerce market.
A SIMPLER WAY TO THE SHELF
The ThermaSet® blow molding process alters the molecular orientation of the PET resin, driving greatly enhanced performance into the blown container, including thermal stability above 300°F and 50 percent greater sidewall rigidity than standard PET, with a significant reduction in wall thickness from its glass equivalent. These improvements streamline the filler's manufacturing process. ThermaSet® allows the use of the traditional vacuum-sealed metal lug cap, instead of the more expensive composite closures and costly production line modifications normally required to use PET. In fact, ThermaSet® jars are typically compatible with existing manufacturing lines, eliminating the need for extensive capital investment or process changes which could impact product flavor. Since ThermaSet® is not at risk of thermal shock, there are potential benefits in manufacturing throughput, energy usage and product quality. ThermaSet® containers may be heated up and cooled down as quickly as possible in the filling and pasteurization process.
"We are doing most of our work with ThermaSet® right now in hot fill & hold and pasteurized products," says Michael Reed, Business Director of ThermaSet® at Graham Packaging, "but the technology has been proven in retort as well and we intend to develop that market down the road." The logistics benefits are as clear as the jar itself: the lighter weight allows for more layers per pallet, and more pallets per truck when shipping; while the reduced wall thickness of the jar creates a narrower jar diameter, allowing for more jars per layer.
The exceptionally high clarity of ThermaSet® is a key factor in its ability to replace glass. "It's difficult to distinguish the plastic from the glass on the shelf," says Reed. The 24oz ThermaSet® jar employs a nanoscopic layer of silicon oxide, bonded to the polymer, to provide the extended shelf life required for pasta sauce.
THE "POP" WITHOUT THE MOP
Retailers will also appreciate the new ThermaSet® technology. On the shelf, the reduced jar footprint of ThermaSet® translates into an additional facing every five feet, offering retailers more effective usage of valuable shelf space. The shatter resistant jar reduces safety risks, waste and cleanup time due to glass breakage. Lighter jars are more ergonomically friendly for stockers and shoppers alike.
Most importantly, consumers will benefit. ThermaSet® PET jars are 100 percent recyclable, lightweight, easy to grip and safe for children. They open with the same satisfying, fresh "pop" that comes with a metal cap, and reduce waste throughout the supply chain. With these out-standing improvements in sustainability, consumers can feel confident in their food choices.
Click here to see a manufacturing video.
# # #
Graham Packaging Company is a worldwide leader of custom rigid blow molded plastic containers for the food and beverage, household, personal care and automotive lubricants markets. Graham produces more than 20 billion container units per year at more than 90 facilities in North & South America, Europe and Asia.