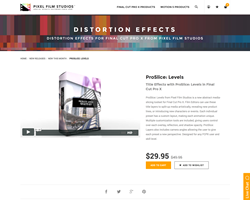 Film editors can give their videos a whole new perspective by using the title layers in ProSlice Levels to split-up media artistically
Aliso Viejo, California (PRWEB) June 26, 2016
Pixel Film Studios Released ProSlice Levels, a Media Slicing Effect Plugin for Final Cut Pro X.
"Film editors can give their videos a whole new perspective by using the title layers in ProSlice Levels to split-up media artistically," said Christina Austin - CEO of Pixel Film Studios.
ProSlice Levels contains over 30 Different presets to choose from. FCPX users can select multiply layouts, with multiple levels and animations. Each individual preset contains up to four Levels, which can be displayed as the original underlying media, drop zones, or color solids.
ProSlice Levels is a set of Title tools designed for Final Cut Pro X. FCPX users can select the preset they want to use, and apply it to the timeline above the desired media. Each title can be stretched to the correct length by simply dragging the end handles.
FCPX users can colorize, blur, and apply different reflections to each individual preset layout with ProSlice Layers. Each individual layout can have up to four layered panels, including a text layer, and multiple media layers. Different animations and reflections can be selected for more styles and variations.
ProSlice Levels is a unique title toolset designed specifically for FCPX. Each individual title contains animation presets, color overlays, outline controls, and shadow controls for users to maximize levels in the creative process. Motion Blur options are included for more realism.
Established in 2006, Aliso Viejo, California-based Pixel Film Studios is an innovative developer of visual effects tools for the post-production and broadcast community. Their products are integrated with popular non-linear editing and compositing products from Apple FCPX. Apple, the Apple logo, Mac OS X, and Macintosh are registered trademarks of Apple Inc. in the U.S. and/or other countries. All other trademarks and trade names are the property of their respective owners.