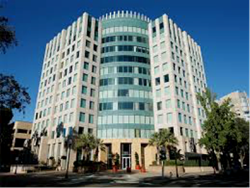 Sacramento, Ca (PRWEB) June 24, 2016
Boyd Law, a California full service litigation law firm, recently opened its fourth office in the state's capitol. "Our new Sacramento location allows Boyd Law to better serve its clients state wide," said Karie J. Boyd, Chief Executive Officer for Boyd Law. The new office is in the Meridian Plaza Building in downtown Sacramento, conveniently located across the street from Capitol Park.
The success of Boyd Law has been built on forming long-term relationships with the firm's clients, who have entrusted the firm to handle a global scope of legal issues they encounter in their lives. The new location answers the strong demand for global legal services throughout California. "Boyd Law Sacramento will allow us to expand the services the firm provides, while maintaining the ability to keep cases in-house without the need to bifurcate matters," said Ms. Boyd. Many clients have legal needs that cross over into different practice areas, and the unique skill set of Boyd Law's legal team provides the global representation that is required to address multiple and often complex legal issues. Boyd Law's practice areas include business law, family law, bankruptcy, entertainment law, real estate law, trusts and estates.
For more information about the new Sacramento location, visit http://www.boydlawsacramento.com or call 916-840-2050.
Boyd Law Sacramento
1415 L. Street, Suite 1240
Sacramento, CA 95814