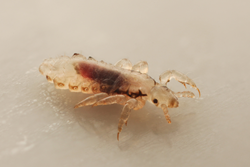 Miami, FL (PRWEB) June 25, 2016
The temporary closing of Bruton Memorial Library on June 21 due to a possible lice infestation, as reported by the Plant City Observer, brings up a new, often overlooked aspect of head lice: the parasite's ability to live away from a human host, and to infest common surfaces. The closing for fumigation is not a common occurrence, but a necessary one in the event that lice have simply gotten out of control.
As lice are a parasite, they are unable to survive away from a human host for long. However, the 24-48 hours that they can survive off the head is often enough time to cause infestation if they come in contact with the head or hair of an individual. Surfaces such as upholstered chairs, headrests, pillows and bedding, are the most common hiding places for head lice outside the hair and scalp. This is in addition to the common vehicles of lice transmission, which are typically personal belongings such as hairbrushes, combs and hats.
Miami-based lice removal company, Lice Troopers, has long recognized the risk of lice on surfaces and, as a result, offers home inspection and cleaning as part of their services. The company has also recently launched a line of home cleaning products including an all-purpose, upholstery cleaner and a leather cleaner. The products can be used as a preventative, or following an infestation.
Said owner and operator, Arie Harel: "While head-to-head contact is the most common way for lice to pass, contact with lice infested surfaces also makes up a large share of the lice cases we see. By keeping surfaces lice free, parents and school administrators can keep infestations at bay and avoid facility closures."
Lice Troopers is the all-natural, guaranteed Head Lice Removal Service™ that manually removes the head louse parasite safely and discreetly in child-friendly salon settings, or other chosen location. Providing safe solutions for frantic families, the Lice Troopers team has successfully treated thousands of families nationwide, with services widely recommended by pediatricians and reimbursed by many major health insurance carriers, flexible spending accounts and health savings accounts.