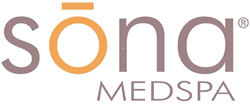 (PRWEB) June 24, 2016
Sona MedSpa is excited to announce that Venus Legacy™, body contouring technology for addressing cellulite and loose or sagging skin, is now available at all 18 Sona locations. Venus Legacy is a non-invasive device that uses multi-polar radio frequency and pulsed magnetic fields to create a therapeutic heat matrix over the skin. It creates a thermal reaction under the tissue that stimulates the body's natural healing response, increasing blood circulation and causing the skin to contract. This results in a reduction of cellulite, noticeable tightening of the skin, and even a decrease in localized fat deposits. The treated area will immediately look smoother and firmer.
Both cellulite and loose or sagging skin are common complaints. Over time, the skin naturally becomes less elastic, which can lead to drooping and sagging. Traditionally, lifting surgeries were necessary to improve the appearance of lax skin. Cellulite can occur at any age and on any body type, and is caused by underlying fat deposits that give the skin a dimpled or lumpy appearance. Cellulite is notoriously difficult to treat, despite the influx of creams, at-home treatments, and special exercises.
"We are very pleased to offer Venus Legacy as the solution for the needs of our clients," states Sona MedSpa president Byron Ashbridge. "We are constantly seeking out industry-leading cosmetic technologies, and this is a particularly exciting option, given how many patients ask us for help with cellulite reduction and skin tightening."
Sona MedSpa clients report that the treatment is a relaxing and comfortable experience. There is no downtime associated with Venus Legacy, and clients can get back to work and daily activities immediately.
"We look forward to seeing our clients experience excellent results with Venus Legacy treatments," Mr. Ashbridge continues. "It is an effective cellulite and skin tightening technique that I anticipate will continue to grow in popularity."
About Sona MedSpa: Founded in 1997 and based in Charlotte, North Carolina, Sona MedSpa (SonaMedSpa.com) is a leading full-service aesthetics company in the U.S. Sona offers a wide array of products and treatments ranging from laser skin services to body contouring and laser hair removal. The company's 18 facilities serve both men and women in a comfortable, spa-like atmosphere that focuses on exceptional service, efficacy and safety. Sona's treatment professionals, working under the direction of Medical Directors, use the most advanced technology to help clients achieve results that look natural and effortless.