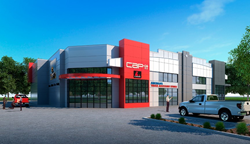 "Cap-it & LEER brands are perfectly aligned to offer truck owners in the Dallas market great truck accessories to expand the versatility of their truck," says Kevin Page, TAG president. "We look forward to expanding our successful relationship with Cap-it
Dallas, Texas (PRWEB) June 26, 2016
Cap-it is now opening franchise locations in the Dallas-Fort Worth area under the trade name "Cap-it America's Truck Accessory Stores™"
LEER, a member of The Truck Accessories Group (TAG), has partnered with the Cap-it Truck Accessory Stores franchise to open exclusive Cap-it/LEER truck accessory stores in the Dallas-Fort Worth market. Cap-it has a 26-year relationship with LEER, exclusively selling LEER products. Since 1990, the Cap-it truck accessory brand, now with 30 locations, has established itself as an upscale retailer/installer of quality truck accessories and adventure products.
LEER retail stores are now available under the Cap-it brand as franchise businesses in Dallas-Fort Worth. Cap-it is now awarding franchises with exclusive territories to qualified applicants.
Andrew Funk, Cap-it president says, "Whether you're an auto dealership, an existing truck cap store or an individual that wants to operate your own business, you'll find Cap-it fun, profitable and an exciting opportunity to dominate in your town".
LEER, founded in the late 1960s, is a member of the Truck Accessories Group, LLC, a collection of companies that make it North America's largest manufacturer of fiberglass and aluminum truck caps and tonneaus. LEER truck caps and tonneaus are American-made in Woodland, California, Elkhart, Indiana and Milton, Pennsylvania. LEER corporate headquarters, including its engineering, design and mold-making resources are located in Elkhart.
LEER products are offered through hundreds of independent distributors located in every U.S. state and most Canadian provinces that sell to individuals, small businesses, new car and truck dealerships, and fleet operators. LEER is known across the truck accessories industry for its outstanding warranties, product design and quality, and reliable customer service.
Since 1990, Cap-it Genuine Truckware has established itself as an upscale retailer of quality truck accessories and recreational adventure products. With their 28 stores spread across Canada from Vancouver Island to Newfoundland they provide their customers lifestyle solutions for their vehicles for work and recreation. In early 2016, Cap-it USA Inc. established a corporate office in Irving Texas to support the planned expansion in Texas.
Visit http://www.capitfranchise.com/us for more information and to register for the next Cap-it Franchise webinar.
USA Corporate Office
Cap-it® USA, Inc.
Suite 1650 222 West Las Colinas Blvd.
Irving, Texas 75039
Canada Corporate Office
Cap-it International Inc.
Suite 700 - 4954 275th Street
Langley, BC V4W 0A3
For more information Call Mike Mutsaerts at: 1-888-456-1965