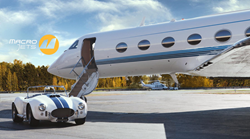 Own A Private Jet With No Annual Cost
New York, NY (PRWEB) June 24, 2016
Macro Jets has developed a program where you can purchase a private jet, earn 20% APR on your investment, fly 120 hours a year at no cost and also take full advantage of the depreciation value of the aircraft. At the end of the program, they buy back the aircraft plus the depreciation value, which will equal to or greater than the down payment amount when the aircraft was purchased. This equates to a no risk zero cost private jet!
Fletcher understood that many of his clients would benefit from a simplified, turnkey solution for acquiring an aircraft and that is just the structure he built.
"With the innovation in technology and our numerous partnerships, we are able to purchase a second hand aircraft, refurbish it, add to charter certificate, and manage the aircraft to cover the annual costs of ownership," said Dan Fletcher, Co-Founder of Macro Jets.
"On top of that, our tax advisors are the best in the business and guide our clients on how to take full advantage of the great tax depreciation incentives that come along with purchasing an aircraft, such as being able to depreciate 58% of the purchase price within the first three years," Fletcher added.
Macro Jets Full Ownership Programs:
$1.5M Mid Size Jet - (8 passengers)
$2.5M Super-Midsize Jet - (9 passengers)
$3.5M Heavy Jet - (12 passengers)
*Prices are ALL IN, TURN KEY, FULL OWNERSHIP and Includes full interior/exterior refurbishment & WIFI installation.
Macro Jets has a vast network at its disposal that allows clients the opportunity to find the perfect business jet to suit their needs anywhere in the world. Download our Instant Quote Mobile App.
To inquire for more information please contact: sales(at)macrojets(dot)com or call +1 212-390-0932
Macro Jets, Inc
125 Park Avenue
New York, NY 10017
http://www.macrojets.com
+1 212-390-0932