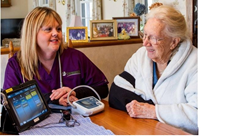 "The interface is so much better than other remote monitoring software I have used before. It is intuitive and put together in a way that lets nurses and patients interact with it much easier." - Jordan Goos
Brooklyn, NY (PRWEB) June 24, 2016
Personal-Touch Home Care, a national company with over 50 locations in 11 states, and Health Recovery Solutions (HRS), a software company started at Johns Hopkins University, began this week to provide innovative telehealth remote monitoring to its patients in their Brooklyn branch.
Personal-Touch Home Care, headquartered in Bayside, NY, began operations in 1974, and since that time has grown into a national company with 34 of the offices certified as home health agencies offering Medicare services. They will have access to HRS's new Clinician Connect mobile app which allows nurses in the field to receive high risk alerts from the tablet monitors which the patients interact with. Home care nurses will be able to place video calls, phone calls, or text messages directly to the patient's tablet.
Jordan Goos, Regional Director of Quality at Personal-Touch Home Care, reports, "The interface is so much better than other remote monitoring software I have used before. It is intuitive and put together in a way that lets nurses and patients interact with it much easier." On average, patient spend 24.6 minutes a day on HRS's software.
HRS's disease-specific software engages patients with education videos, teach-back quizzes, care plans and surveys, and allows for video conferencing with nurses and family members. The software is loaded on tablets and provides all the standard telehealth monitoring while integrated with wireless Bluetooth devices.
Jarrett Bauer, CEO of Health Recovery Solutions reports. "We always love partnering with highly rated and forward thinking agencies like Personal Touch because they will utilize all of the innovative options we offer for patient engagement. We are honored they picked us and are excited to begin our partnership with them this week."
For more information about Personal-Touch Home Care visit http://www.pthomecare.com or call 1-888-275-4147
For more information, about Health Recovery Solutions (HRS) visit http://www.healthrecoverysolutions.com or call (347) 699-6HRS.