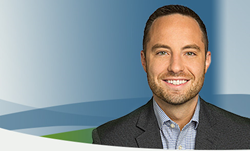 Perry's innovative thinking will propel us to the next level of service for our clients.
Reston, VA (PRWEB) June 28, 2016
Perry Kessler, CPA, has joined RyanSharkey as Assurance Director. Kessler comes to RyanSharkey with expertise in providing assurance and business advisory services to government contracting and technology firms. His most recent post was as Assurance Senior Manager for BDO USA, LLP, for more than three years. Prior to that, he spent nearly six years at Argy, Wiltse & Robinson, P.C. (acquired by BDO in 2012), first as a Senior Associate, then as an Assurance Manager.
"Perry is a very welcome addition to our team at RyanSharkey," said Managing Partner and Co-Founder Edward Ryan, CPA. "He brings a strong background in government contracting, assurance and business advisory skills. His leadership skills and knowledge of government contracting will be invaluable as we continue to grow our practice."
Kessler's experience in implementing innovative methodologies and work plans in the government contacting industry, specifically dealing with the auditing process, is a highlight of his work experience. His efforts consistently lead to an efficient and effective engagement where clients receive the benefit of a process that results in value-added contributions to their business. Kessler also has experience presenting and training colleagues in new methodologies. His range of experience includes working with accounting firms, government contractors and small businesses (e.g., 8(a), veteran-owned, woman-owned, etc.). "Perry's innovative thinking will propel us to the next level of service for our clients," said Ryan.
RyanSharkey provides a range of high-quality government contracting attest and consulting services, including audits; reviews and compilations; business and advisory services; contract reviews, analyses and negotiations; Cost Accounting Standards (CAS) consulting; Incurred Cost Submissions (ICS) consulting; Defense Contract Audit Agency (DCAA) audit support; employee benefit plan audits; Federal Acquisition Regulation (FAR) consulting; indirect rate preparation; internal audit services; and tax compliance.
Kessler graduated from the University of Kansas with Bachelor of Science degrees in Business Administration, Marketing and Accounting and is a Certified Public Accountant. "I look forward to working with the assurance team at RyanSharkey to provide our clients with the best assurance and business advisory services in the industry," said Kessler.
About RyanSharkey, LLP:
RyanSharkey, LLP is a leading accounting and consulting firm in the Washington, D.C. region, serving the government contracting, technology, and consumer services industries. The firm delivers accounting, audit, tax and consulting services for a diverse group of clients. Guided by a unique corporate culture, RyanSharkey's team of advisors is known for their personalized insight, forward-thinking solutions and innovative strategies. Learn more at http://www.ryansharkey.com/GovCon.