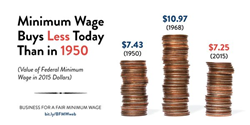 Good for business, customers and the economy
Rhinebeck, NY (PRWEB) June 24, 2016
Topical BioMedics, Inc, makers of Topricin and MyPainAway Pain Relief Products, join The 'Business for a Fair Minimum Wage' list of companies that call for a minimum wage raise to $12 an hour by 2020 and then adjusting it yearly to increase at the same rate as the median hourly wage. This will restore the lost value of the minimum wage, assure the wage floor does not erode again, and make future increases more predictable.
The company is among part of an exceptional list of companies that believe paying employees a fair wage is of the upmost importance to the health and vitality of the economy and the millions of wage workers that make our economy work. Among them are Stonyfield • Ben & Jerry's • Eileen Fisher • Parnassus Investments • Organic Valley • New Belgium Brewing • Amy's • Dr. Bronner's • Replacements Ltd • Seventh Generation • American Sustainable Business Council • Greater NY Chamber of Commerce • Janska • Earth Friendly Products • ABC Carpet & Home • Amalgamated Bank • Wetzel's Pretzels • Zingerman's • The Tea Spot • Pi Pizzeria • Equal Exchange • Bhakti • Uncommon Goods • American Income Life • Logan Ace Hardware • Lamey Wellehan Shoes • and hundreds MORE
All the listed companies support gradually raising the federal minimum wage to at least $12 by 2020. Today's outdated minimum wage has far less buying power than it had in the 1960s. Stuck since 2009 at $7.25 an hour – just $15,080 a year – the minimum wage impoverishes working families and weakens the consumer spending at the heart of our economy.
Raising the minimum wage also makes good business sense: Workers are also customers! Minimum wage increases boost sales at local businesses as workers buy goods and services they could not afford before. And nothing drives job creation more than consumer demand. Businesses also see cost savings from lower employee turnover and benefit from increased productivity, product quality and customer satisfaction.
The most rigorous studies of the impact of actual minimum wage increases show they do not cause job loss. Raising the minimum wage will keep more dollars circulating in the local economy and reduces the growing strain on the social safety net caused by inadequate wages.
The campaign circling "Business for a Fair Minimum Wage" is tagged Fair Pay Today. Companies are communicating their support by placing small circular stickers on all packaging that read, 'Fair Pay Today'.
Good for business, customers and the economy! For more information visit http://www.businessforafairminimumwage.org)
About Topical BioMedics, Inc.: Topical BioMedics is a research and development leader in the transdermal application of natural biomedicines in combination, through its patented healing technology platform, Topricin. The company's flagship product, Topricin® Pain Relief and Healing Cream, was introduced in 1994 as an innovative 21st century approach of relieving the cause of pain at the cellular level by supporting an optimum healing response, assisting the body's desire to heal the damaged cells causing the pain. Topricin is now a leading natural therapeutic brand, both for active people and in patient care.
The products contain specialized formulations of 11-17 natural biomedicines, treating a wide range of pain ailments and awarded patents for the treatment of pain associated with neuropathy (diabetic and chemo-induced) and fibromyalgia. Topricin products are changing the way pain is diagnosed and treated and have become mandatory treatment protocol at world renowned medical centers - treating the cellular cause of pain results in reduced dependency for all classes of oral pain pills including opioids.
This natural healing product line also includes; Topricin Foot Therapy Cream, specially formulated to treat the challenges foot and ankle pain issues. Topricin for Children, which received the Parent-Tested, Parent-Approved, Seal of Approval (with 5% of sales donated to a pediatric cancer foundation in NY State). The company launched the MyPainAway® (powered by Topricin) line of products. Its three new formulas MyPainAway Fibro Cream was formulated to provide viable pain relief for people with fibromyalgia, MyPainAway After-Burn Cream that treats the cells damaged by a burn, and MyPainAway Sports Cream targeted towards athletes, weekend warriors, and active people everywhere.
Topricin is proud to be, Made in the U.S.A., with lots of Love, pure biomedicines, no harsh chemicals, will not interfere with any other medicines making Topricin products ideal for the entire family, restoring hope and quality of life supporting a Healthy Active Lifestyle.
Topricin is available in independent pharmacies, natural food and co-op stores nationwide, including Whole Foods, Sprouts, Pharmaca, The Vitamin Shoppe, Fred Meyer, Wegmans, CVS, Walgreens (Diabetic Section), and other fine retailers, as well as directly from the company. For more information visit http://www.topricin.com.