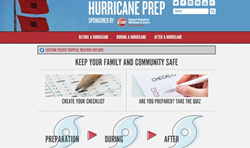 Free online hurricane preparedness information is now available at http://HurricanePreparednessTips.com
Miami, FL (PRWEB) June 28, 2016
The 2016 Atlantic hurricane season is here, and it's expected to be the most active in several years. Predicted by the Weather Channel for this year: 14 named storms, eight hurricanes, and three major hurricanes. It's never too early to start preparing.
Free online hurricane preparedness information is now available at HurricanePreparednessTips.com, thanks to Miami-based CGI Windows & Doors. Included in the interactive, comprehensive microsite:

A preparedness quiz;
Preparation and organization checklists for before, during, and after a storm;
Hurricane terms to raise your storm knowledge;
Home safety assessments;
Family hurricane plan guidelines;
Evacuation etiquette; and
So much more.
For more information, please visit http://www.hurricanepreparednesstips.com or http://www.cgiwindows.com. On social media, CGI Windows & Doors can be found on Facebook, twitter, LinkedIn, and Google+.
ABOUT CGI:
CGI was established in 1992 and has consistently built a reputation based on designing and manufacturing quality impact-resistant products that meet or exceed the stringent Miami-Dade County impact standards. The Company has over 300 employees at its manufacturing plant in Miami, Florida. Today the Company continues to lead as an innovator in product craftsmanship, strength and style, and its brands are highly recognized and respected by the architectural community. CGI product lines include the Estate Collection, Sentinel by CGI, Estate Entrances, Commercial Series, and Targa by CGI. CGI Windows and Doors is a wholly owned subsidiary of PGT, Inc. (NASDAQ: PGTI). For additional information, visit cgiwindows.com.